Francesca Martí's new Flux project shows how her sculptural figures are now actively shifting their own environments. The flux itself lies in the way her Believers respond to the world around them, how they can physically alter their surroundings or how they themselves are undergoing processes of change. They are hybrids of natural and machine-made elements. They are simultaneously symbols of growth and deconstruction.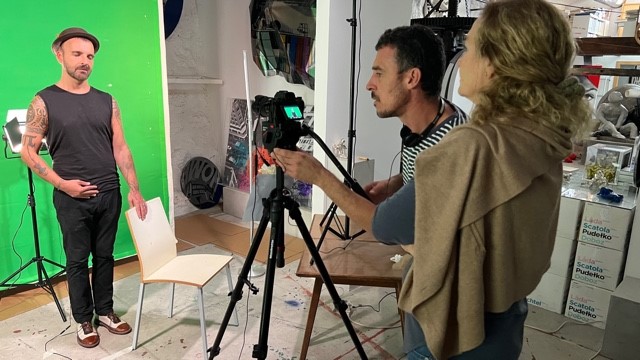 In early November, Francesca Martí recorded her latest performance video with Italian singer/performer Filippo «Pheel» Balliana in her studio in Soller, Mallorca. Living in Bari, Lisbon and Rio de Janeiro, Filippo used story-telling, song and emotional language to interpret some of the themes revealed by Martí's Flux series of sculptures, drawings and videos, while he recounted a story from her childhood. As with all of Martí's performances, communication is the key.
«Since 2012, my Dreamers have represented the raw body of each of us, maybe showing our deeper soul, and its spiritual connection with the Universe,» says Martí'. «In my new video performance with Filippo Baliana, I would like to express what it means to be human today.
I have also included figurines in porcelain, each representing different times in our history. These figurines are both realistic and not real. They can seem to be happy, even if they have no soul.
After editing, the final idea of the Flux video will be about the transformation of our emotional, personal character into a new human/machine. This is revealed by Filippo's emotional expressions, and when he says a series of disjointed words which can be seen as a reflection of the chaos in our society.»
The key words spoken by Filippo are a combination of human feelings and technical jargon: Attraction, Data, Download, Energy, Fear, Hard-drive, Memory, Protection, Satellite, Technology, Time.
«Next is the fragmentation of parts of the body,» continues Martí. «During the editing of the video, we will separate Filippo's head and arms, turning them around his body as if they are moving into the cosmos, or with his arms embracing himself. The final part is the change in the human body itself. The figure speaks, but gradually the spectator will see less of the human form, as he turns into a porcelain statue.»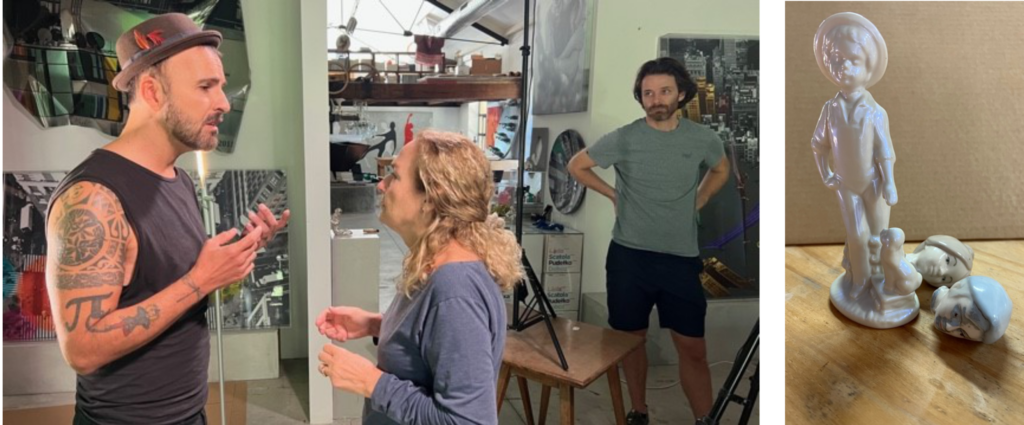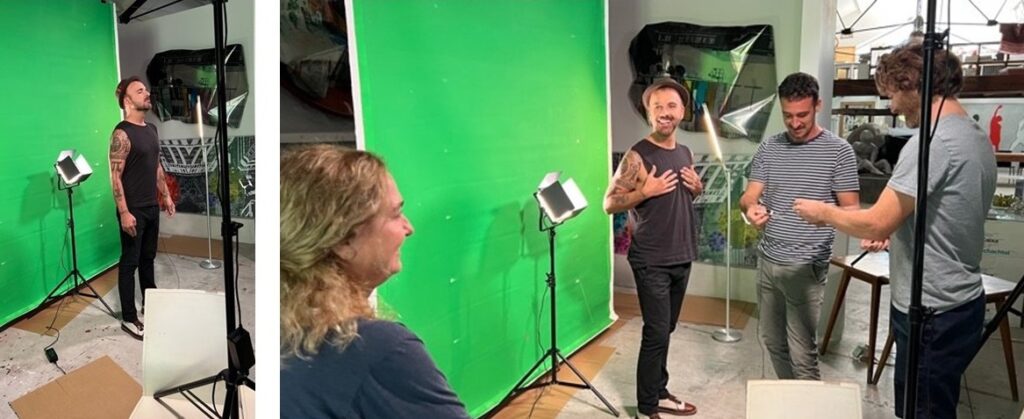 According to Filippo, at a time when many people have opted to tone down the excesses of powerful emotions, when they seek an easier life with simpler experiences, maybe what they really want is the uncomplicated existence of a programmed being. Martí's Flux series poses questions about this, and whether humans are now morphing into machines, or whether machines are gaining a veneer of humanity.