"Slowly her words began to make sense to me. In an instant I saw a fundamental change from what I thought was delirium… to a fantastic, poetic act… that the "death rattle" of this fly, fighting between life and death, had opened Marti's eyes to a new world full of new soul and emotion, that Francesca's spiritual depth of sensation and emotion had been opened to the world through the pervasiveness of a fly."
Bernat Rabassa, director of Galeria Altair, Palma de Mallorca, 2010
«In Music and Fly we are transported into a new realm beyond the detached purity of music. It is a realm where magic and sound are interdependent, and one where a sense of the contingency of life and a sense of the immanence of death are transformed, in the cauldron of human emotion, into an awareness of the immediacy and presence of life. Francesca Marti's flies represent the disruption of life force within the process of creating art. The fly upsets habitual patterns of thought diverting us towards unexpected and, what Tristan Tzara called "non-directed" modes of thought.»
William Jeffet, curator Salvador Dali Museum, St. Petersburg. 2008
"I don't know if the Fly follows me or I follow her… The Fly showed me a world of new dimensions. The Fly is a symbol of an eternal mystery of existence." Francesca Marti
It was in September 1999, drawing memories from my last trip in Tunisia, when I see and I hear a fly around the big window of the studio. The noise is disturbing me. The fly comes, touching my face and my hands is even more disturbing… Suddenly it falls into the red color and starts to struggle, carrying on its fragile wings all the heavy red pigment powder… trying to survive… walking on my drawing and painting lines at the same time. This demands my attention and involves me immediately into a dream…… I felt in love with the spaces, the lights, the colors, the forms… she is the liberator of my feelings.
The fly is everywhere, always has been, always will be.
Was it an accident or was it something more? Why me?
It was an accident, and if it was something more… I need to understand.
The struggles of the Fly make me think of hope and life…
My life and hopes make me feel love.
The fly today is a messenger of life, love and hope.
(for best quality please ensure you are viewing at 720 HD resolution)
FLIGHT
New photo-shoot revisits Francesca Marti's Fly series, 17 years later
Text by Jonathan Turner
In 2000, Francesca Marti' began her renowned Fly series of black-and-white photographs and collages with painted additions. A fly in her studio had become an unexpected protagonist, when it walked through a mound of pigment and began tracing its steps on a sheet of drawing paper. Marti' then saw this adventurous, creative fly/artist as her alter-ego. She recently rediscovered some of these photographs in her studio, and they have provided her with a fresh outlook, and an inspiration for a new chapter in her artistic research.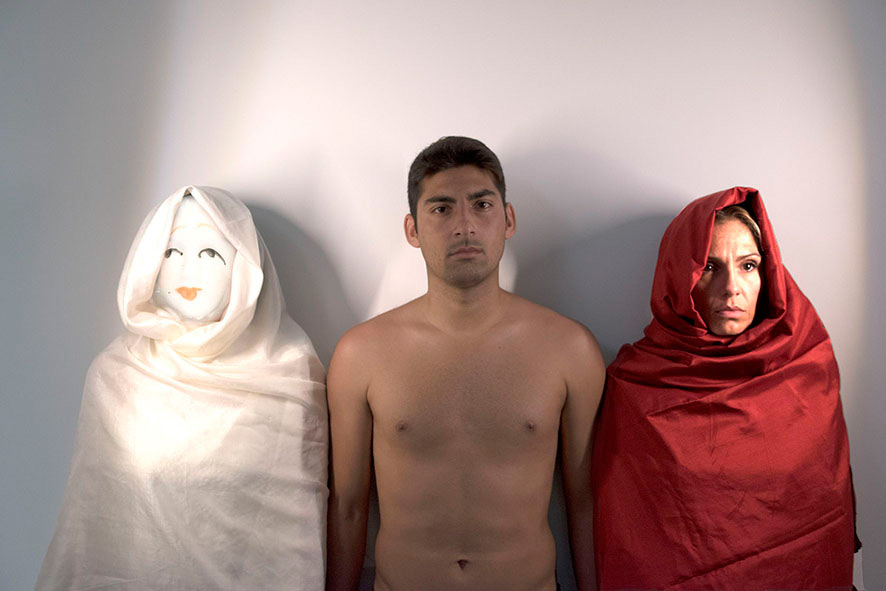 FRANCESCA MARTÍ
Flight – Claudia, Salahuddin, Barbara, 2017.
Photograph from performance, 50 x 75 cm, edition 1/3
In her studio in Fornalutx in late July 2017, Marti staged a revisitation of her Fly series, using ten models to recapture the same intensity and still poses she sought in her previous photographs. The earlier images will now be combined with a brand new mixed-media series called Flight, looking at the themes of migration, communication, a sense of belonging, friendship and family, with models coming from Spain, Sweden, Pakistan, Italy, Nigeria, Cuba and the Czech Republic. It signifies a process of revision and reflection, as an indication of Marti's ongoing research. The Flight photographs seek to establish new relationships, while suggesting fresh dialogue between different people, different cultures and different time periods.
The earlier Fly series featured such models as a Mallorcan policeman called Rafael, Francesca's long-time friend Cristina Macaya, plus Viktor and Prosper, two striking men photographed with their heads or bodies partly wrapped in fabric. This act of masking and disguising the human figure is an ongoing technique in Marti's work. Two of the female models from The Fly – Barbara and Catharina – return in the Flight series. Francesca last portrayed her daughters 17 years ago, behind veils, with bright red lips. In the intervening years, Barbara first moved to Holland, now has two young daughters herself and works in Soller as a hotelier and health-food expert, while Catharina is no longer a school girl but a Stockholm-based interior designer. Plotting change through time, Marti's Flight photographs reinterpret the idea of beauty and the portrait in flux.
The Flight series captures models alone or in groups. Barbara and Catharina pose with Francesca's Mallorcan cousin Claudia, as well as with Salahuddin, a young Pakistani man now based in Rome, and Julia from Cuba. According to Francesca, they represent the worlds of "religion, beliefs, mystery and family pride." Hana, a supermodel originally from the Czech Republic, is posed alone as a statuesque icon, as a symbol of "fragility and purity – but at the same time she shows strength and power," says Marti. In several images, Hana appears alongside George, a Nigerian man Francesca met on the streets of Soller. In these double portraits, Marti' wanted to highlight "the physical contrast of migrants confronting and discovering new worlds."
At one stage during the staging of these double portraits, Francesca wanted to change the mood, so she asked George to look at Hana with an expression of anger. He did. Hana looked scared for an instant, and then both models burst into laughter. In Marti's studio, it is difficult to even pretend to be angry.
Marcel and Andre', identical twins from Stockholm, represent "stability, elegance and sophistication". In one double-portrait, their friend Catharina stands between them under a scarlet shroud. She holds a porcelain statuette of two figures seated on a settee, mimicking the pose of another photo Marti took earlier of the twins on a two-seater settee (or love-seat). This subtle sense of duality often emerges in her photography.
Several of Marti's earlier Fly collages incorporate fencing wire, which physically separates the model from the viewer, symbolising the idea of a barrier, or border-line. This metaphor remains particularly topical given the plight of asylum seekers today, and the prevalent attitudes in the wake of Trump's divisive America.
"The first time I worked with the idea of what constitutes a migrant was back in 2000, when a simple fly came into my studio, and unexpectedly became a symbol for my professional life," says Marti. "Seventeen years later, in my recent works based on communication, I integrate the subject of migration as an important issue in our society today… as a natural movement of humans… as contemporary survivors."
Marti's recreation of The Fly series is a re-staging or a re-enactment, but it proves her themes are just as relevant today as they were back in 2000. Introducing such new elements as satellite dishes, souvenir figurines and powdered faces, the Flight series can be superimposed on Marti's previous research about migration and nomadism. In this context, her painted collages from The Fly series themselves become migratory. Faces peer out in striking black and white. A sharp silhouette is made more sharp by the artist using a pair of scissors to cut and repaste the body outlines. In The Fly photographs, there is a mood of shadowy fore-telling, like the flies of mythology which were seen as harbingers of doom. Marti's earlier photos themselves predicted important changes in the public's contemporary attitudes towards open society, transition, nationalism and racism.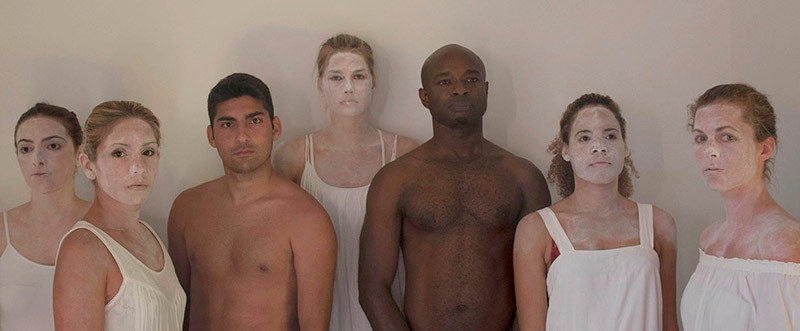 «Flight» models – Claudia (Spain), Barbara (Spain), Salahuddin (Pakistan/Italy), Hana (Czech Republic),
George (Nigeria), Julia (Cuba) and Catharina (Sweden)