Francesca Martí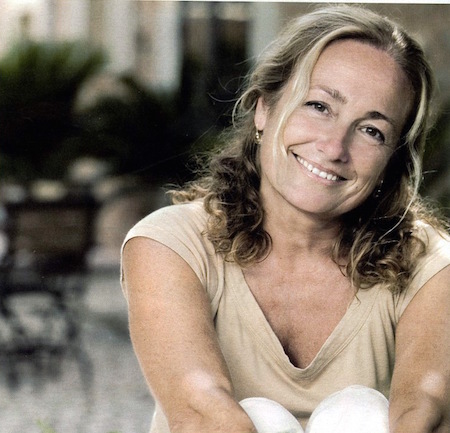 Francesca Martí was born in Sóller/Mallorca, the largest Balearic island off the south-east coast of Spain. She works between Mallorca, the Netherlands and Stockholm.
Martí emerged on the Spanish art scene in the early 1990s with solo and group exhibitions in Palma, Barcelona and Madrid. Her work was soon being featured in such international galleries as Paule de Boeck Fine Arts in Ghent (Belgium), Galeria Altair in Palma de Mallorca (Spain) and Bruton Street Gallery in London (U.K.), at the Kunstmuseum Bonn in Germany, Casal Solleric, Palma, and Fundacio Pilar i Joan Miró Mallorca.
Since 1995, her work has been exhibited in solo shows at The Genia Schreiber University Art Gallery in Tel Aviv (Israel), the Jordan National Gallery of Fine Arts in Amman (Jordan), The Royal Spanish Academy in Rome (Italy) and at the Villa Pisani in Venice (Italy). In 2007, her Soul exhibition in the Spanish pavilion at the X International Biennale of Cairo (Egypt) was awarded First Prize by the jury. Her solo exhibition Echoes, took place in 2008 at Es Baluard Museum of Modern and Contemporary Art in Palma (Spain). Martí has participated in many art fairs including Arco, Art Cologne, Bologna Art Fair, Miami and Art Dubai.
The 400-page monograph Francesca Martí – Borders of Reality was published in 2011, aligned to further exhibitions in Spain, Sweden, The Netherlands, Germany, Italy and Australia. Other shows have been held at Lipanjepuntin Artecontemporanea (Trieste), Galerie Martina Kaiser (Cologne), Smith & Hall Gallery, (Sydney), Epson Kunstbetrieb (Dusseldorf), Galleria Il Ponte Contemporanea (Rome) and Gerhardt Braun Gallery (Palma, Spain). In 2012, her large-scale video sculpture Planet of Fusions was installed in the central hall at Art Fair Cologne.
Having previously developed theatrical projects with musicians and choreographers in Belgium, Martí has been working since 2013 as a guest lecturer in the field of performance at the Royal Central School of Speech and Drama in London. Francesca Martí: works from 2000 to 2014 was held at Gallery Pyo in Seoul in 2014 as a retrospective of photographs, video installations, paintings, sculptures and performances from her series Fly, Soul, Tears and Scream. It was her first solo exhibition in Asia.
In 2015, Martí designed the new wine label for the 2013 Cabernet Sauvignon/Merlot blend produced in Mallorca by the highly regarded Bodega Son Mayol vineyard. Her video Painting the Soul (2006-2015), performed by classical dancer Sergio Exposito to original music by Daniel Alzamora-Dickin, was featured as part of the 2015 Venice International Experimental Film and Performance Art Festival at Ca' Zanardi, aligned to the 56th Biennale di Venezia. She was also one of the five featured artists at the 2nd Brabant Biennale in Tilburg in The Netherlands and her videos were included in the International Video Art Limousine Festival in New York, an innovative project launched by LIQUID CITIES NYC.
Following the installation of her large-scale Marine Rebirth sculpture near the lake in Aqaba in Jordan, Martí's Dreamers project was published as a 64-page catalogue with text by Pilar Ribal. Her Migrant Angel solo show at Galeria Kreisler in Madrid was staged as part of the 2016 Bienal Miradas de Mujeres.
Two new series of photographs emerged from twin performances staged by Martí in her studio in Mallorca in 2017. Flight is an updated reinterpretation of her previous Fly series, composed of group portraits of nine powder-faced models coming from Spain, Sweden, Pakistan, Cuba, Nigeria and the Czech Republic, while Ma'at focused on English performer Madaleine Trigg in the guise of the Egyptian goddess of truth, justice and cosmic order. In late 2017, after her Kingfisher solo show at Gerhardt Braun Gallery in Palma de Mallorca, her inclusion in a show of digital photography at the Los Angeles Center of Digital Art and her participation in several group shows in museums in Italy and South America, the Danubiana Meulensteen Art Museum in Bratislava, Slovakia, hosted Transformation, a major retrospective of her work, accompanied by a 128-page catalogue. In 2018, Marti' inaugurated the new Gerhardt Braun Gallery in Andratx in Mallorca with an installation of her Believers series.
In 2019, Marti's 7 Dreamers of Eindhoven – a series of life-sized figures in mirror-polished aluminium – were permanently installed in the sculpture park at Prodrive Technologies in southern Netherlands, with another installation of 200 figures scaling the walls in the reception area. Her Energy Ray solo show filled the 17th Century palace at the Gerhardt Braun Gallery in Palma and her Ellipse solo was part of the first season of the new Reiners Contemporary Art in Marbella. Several works were featured in the Blurred Eagerness group show at DNA Galerie in Berlin, followed by a dual exhibition in late 2021 of works by Marti' together with American intermedia artist Gary Hill. In 2022, the «Dreamers» double solo show by Chinese artist Xiao Hui Wang together with Francesca Marti' took place at the brand new Xiao Hui Wang Art Museum in Shanghai, accompanied by two major catalogues. At the same time, Marti's «Green Swarm» exhibition of video, sculpture, photography and installation, with a soundtrack by composer and musician Zac Hemsey, was held at the Gerhardt Braun Gallery in Palma de Mallorca, and her work was included in «Future – Into the Open», the 27th edition of the prestigious Rohkunstbau curated by Dr. Heike Fuhlbrügge, at the Altdöbern Castle, Germany.
In 2008 Martí attracted the attention of Australian-born, Rome-based curator Jonathan Turner, an independent art critic who has organized more than 500 solo and group exhibitions in museums and galleries around the globe, and has worked with the Biennale di Venezia, the Biennale of Sydney and Manifesta (editions in Rotterdam, Ljubljana, Frankfurt, San Sebastian, Alto Adige, Murcia, and Genk). He is the prize-winning author of numerous books and catalogues, the correspondent for Tableau (Amsterdam), ARTnews (New York), genius-online (Trieste) and many other international publications and Turner has worked with Martí on projects in Amsterdam, Beijing, Bologna, Bratislava, Havana, Madrid, New York, Palma, Rome, Seoul, Shangai, Soller, Sydney, Trieste and Venice.
Francesca Marti is represented by:
Gerhardt Braun Gallery, Palma de Mallorca (SP); Pyo Galleries, Seoul/Los Angeles; DNA Galerie, Berlin