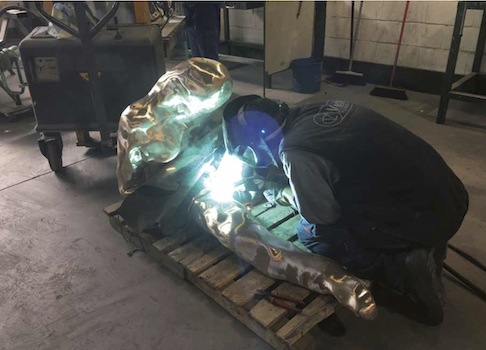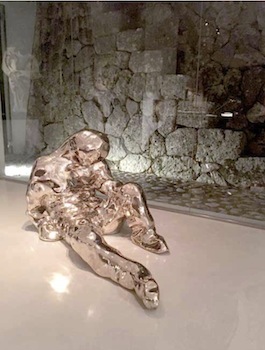 Although the first small-scale Dreamers emerged as part of Francesca Marti's Soul project in 2006, it wasn't until five years later that she embarked on the complex production of her diverse series of sculptures in clay, bronze and aluminium.
"The Dreamers are masculine figures," says Francesca Marti' of her ongoing sculptural project. "My Dreamers have each been inspired by the twenty brightest stars shining in our night skies, and they have been given their names accordingly, from Alpha Cani Majoris to Leonis. Each sculpture shines in solitary contemplation. But they are inter-connected. The Dreamers are raw figures showing my hand-marks and fingerprints. They are produced in miniature or fully life-sized. Alone or posed in groups, they are expressive figures lost in their thoughts. Cast in bronze, polished silver, or coated in monochrome blue, green or red paint, each Dreamer becomes a star in his own right. As they sit or kneel or recline, they suggest new conversations and relationships. They are relaxed and reflective, part of my aim to turn dreams into reality, and to carry spirituality into existence."
Francesca Marti in conversation with Jonathan Turner, 2015
—————————–
Some of my thoughts about making my Dreamers….
«I decided to share the company of my dreams, so I started to make human forms with clay, each one sitting around me, each one by himself…  And closing my eyes while modeling, I instinctively imagine the forms and positions, I feel the body and the essence in my hands…  Asking to myself often, are we alone, or together? Are we at one with animals, nature, the universe, or are we alone with nothing? My Dreamers have been talking to me through their silence for several years now. Maybe they also speak to others. Maybe their silence is their real presence.»
Francesca Marti, Soller, 2016
Text by Pilar Ribal i Simó from the 64-page catalogue Dreamers published in 2016.
DREAMERS: THE SCULPTURAL IMAGINATION OF FRANCESCA MARTÍ
You may say I'm a dreamer
But I'm not the only one
I hope someday you'll join us
And the world will live as one
John Lennon
When considering the challenges currently facing mankind, we can truly appreciate John Lennon's visionary invitation to imagine a better world as proposed in his most famous song, to join him as a dreamer in a place with no wars, no countries, with no hell, with nothing to kill or die for. Although his words might now sound unrealistic and utopian, they may well present the only viable formula to build a better future, that is to say: to honestly re-imagine it afresh.
Despite all the technological and scientific advances we have achieved, it is now clear that we urgently need to change the pattern of how we live our lives on a planetary scale. Having realized that the old opposition to the laws of nature and the blind consumption of resources will not ensure global welfare, many voices are now rising against unfair, abusive and discriminatory practices. We now know that these do not constitute a conquest, but a threat to our own survival.
Just as John Lennon was an artist who was inspired by the realism of human emotions, Francesca Martí has given form to the potential dreamers our planet needs to evolve. Her Dreamers possess an androgynous male body without age, race, ethnicity, social background or traits of religious identity. They embody the dynamic idea of change that helps us to move forward in peace, advancing towards a more equitable and respectful future.
It is no coincidence that Martí's artistic imagination materializes as a new human model, emerging from her keen social awareness. It is often said that intuitive artists foreshadow the coming times. They help us to absorb social changes and to better understand human behaviour, leading our experiences to a higher level of meaning. Wittgenstein said that something only exists if language can express it. This idea can be extended to all aspects of reality and human life, as has widely been proved by literature and science fiction films.
A tour through the history of art reveals the emergence of certain artistic models linked to particular social and intellectual schemes. Artistic forms arise from a context, from a society which is able to recognize them and incorporate them as part of its broader collective memory. If we look back to ancient Greece, we discover the idealized athlete represented in classical statuary is the epitome of perfect human scale, at a time when sophisticated architecture was developing new humanist forms. If harmony is a guiding principle, and the beauty of the body is the canon which embodies those ideas that are then applied to the domain of space, this later became the Roman hero. He was the mighty conqueror who led his troops, who exemplified the expansion of civilization and who proclaimed his dominion over vast territories.
Submission to a universal order came at a symbolic time, together with the wounded body of Christ and the images of the many saints, all suffering dramatically in martyrdom. Mankind, vulnerable in its materiality, embraced its fate with trust, firmly believing in the goodness of an invisible Creator. However, the pious figure of the martyr was soon replaced by that of the cultivated Renaissance man. The philosopher, the architect, the artist, the poet and the patron became the new models in a society which firmly believed that talent, assertion and skill could help a person to overcome barriers and find a valid position among his equals.
After the Baroque, a period characterized by iconographic forms of exaltation, holiness and religious fervour (which could be associated with the emergence of political power), we have to wait until Rodin's Thinker to find another significant model: that of a man born through philosophy to reflect a society moving towards its highest achievements in the name of progress. In the 20th Century, the representation of the slimmed-down, tortured human body arises from the disaster of two World Wars, with the outstanding examples as shown by Alberto Giacometti's sculptures, Francis Bacon's paintings, the practices of Body Art and, more recently, the reinterpretation of the spiritual portrait in the sculptures by Jaume Plensa.
As part of the ongoing genealogy of human figures created by an artist's observations and their responses to the challenges of the times, the Dreamers of Francesca Martí embody a modern man who is inspired to imagine a better world. However, this world might only eventuate if we use our experiences and knowledge to find alternatives to those practices deemed inefficient, unworkable or dangerous.
Destined to belong to a new repertoire of sculptural icons, the Dreamers are original and versatile beings which adopt different human poses, none of them threatening. Their various chromatic shades produce significantly different vibrations. They are neither gods nor heroes. They are not failing, nor falling in disconsolation or commiseration. Their appearance is reminiscent of embryos whose faces and specific physical attributes have not yet been fully drawn. Seated, laying, squatting or folded in on themselves, looking at the sky, sleeping, in conversation or silently introspective, they remind us of the everyday man lost in his intimacy.
As generic figures, the Dreamers condense all possible human identities, both present and past, as well as those germinal life forms not yet born or those resulting from genetic manipulation. Aligned to their name and nature, they suggest the interconnection between our acts today and their consequences on future generations. Their essence is not only in their appearance but in that secret space which hosts their spirit and dreams. Martí's Dreamers are anonymous beings which however produce the energy to promote change. Men or animals, (her most recent canine dreamers are sleeping dogs which dream of chasing and running), help define the new times about which we are now prescient. Martí's sculptures are pure forms of consciousness, the physical representations of "souls", according to the artist's own definition, human or post-human.
Despite their indeterminate features, the Dreamers sculpted by Francesca Martí are named after the brightest stars of the Milky Way. This reinforces the idea that the extent of human actions is intertwined with the infinite space that hosts our planet, the universe.  It is space that science has been able to study thanks to the satellites and probes launched over the last decades. Two of these orbiting laboratories, Echo and Echo 2, have lent their names to Martí's Satellite Dreamers, polished bronze and aluminium sculptures of figures posed on metallic dishes. They reinforce the double dimension, simultaneously humanist and scientific, highlighting the ethic perspective that crosses this multi-faceted project.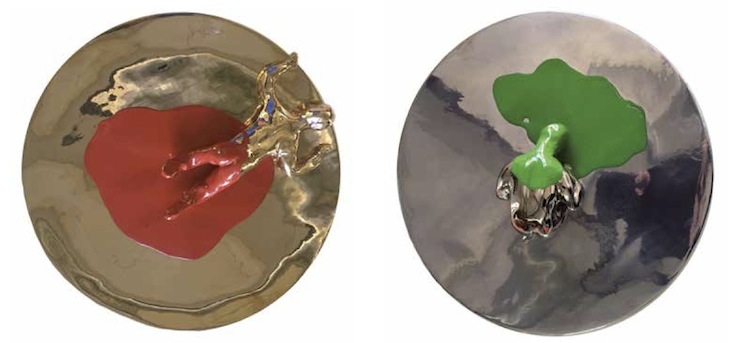 Martí's Dreamers are prefigured by her previous paintings, photographs, videos and sculptures produced throughout her career, including the human silhouettes captured in her Senses & Movements (2005), Soul (2006) and Scream (2008) series. They are also closely related to her video installations devised as part of Cocoon (2009), which exemplify the idea behind transformation and evolution. This eventually led to the first handmade clay figure of the Dreamer, introspective and three-dimensional.
During each historical stage of the philosophical evolution of mankind, the inspiration is provided by the image of the athlete, the hero, the martyr, the thinker and the artist. In times of transition, or when survival is at stake, new models are required. The Dreamers of Francesca Martí are examples of this new humanity. They are independent beings with advanced consciousness, who will purposely build a future in which, as Einstein predicted, "Imagination is more important than knowledge".
Pilar Ribal i Simó, 2016
BELIEVERS
«As a girl, I needed to dream,» says Francesca Marti'. «Due to circumstances, I felt I was alone often. So dreams occupied my mind. Much later, in 2012, I start to make human forms molded from clay, sitting around me in the studio. It felt good, sharing dreams with them, in silence, calling them my Dreamers.
One day, as it can happen to us all, we can wake up to our own true reality. Then we decide to make our dreams into our beliefs. The Dreamers become the Believers. In every second of our lives, it is so important to believe, to look forward. It's a passion, a challenge, to send thoughts out to our universe… to believe in ourselves… to justify the very essence of our existence.
My Believers are united. They are linked together around the world, existing at the same starting point of migration, all walking in the same direction.»
BELIEVERS – THERE WERE MANY IN THE SHADOW OF THE AFTERNOON
Francesca Marti' has completed a series of mixed media works in perspex/methacrylate boxes, entitled There were many in the shadows of the afternoon, 2018. This series – made from paper, resin, terracotta, paint, photographs and collage – was first unveiled at Marti's solo show at the new venue of the Gerhardt Braun Gallery in Andratx in Mallorca, and also in the annex of the established GB Gallery in Palma, a new space dedicated solely to monumental works.
Marti's multi-faceted world of Believers provides a universal portrait of mankind. The figures stand, walk and run. They confidently stride towards the unknown. These subtle, androgynous figures embody the themes recurring in many of Marti's works, incorporating aspects of migration, human fragility and spiritual potency.
"To me, the Believers represent that certain moment when you wake up from a dream, and then you are confronted by reality, or by our vision of reality" says Francesca Marti'. "It is what inspires us to physically, mentally and emotionally progress, and to move ahead."
These recent mixed-media works play with the viewer's sense of perspective. Colours appear as bold monochromes and geometric forms. Utilising the techniques of photography, computer-graphics, painting, charcoal drawing, collage and sculpture, Marti' combines both flat and three-dimensional figures which move in groups across large sheets of paper. Painted shadows, overlapping forms and twisted fore-shortening help to create an intriguing, but optically deceitful mix.
The crowds of small Believers in perspex boxes can be seen to represent aspects of exploration and migration (people in mass movement escaping for a better life, or simply travelling to a new destination), political change (revolutionary forces and demonstrations), and collective behaviour (cultural processions, religious rites, armies of people who believe in the same principles, like-minded groups of fans or followers). As populations shift, and as the masses follow different charismatic leaders, Francesca Marti' captures a world of change, action and hope. (Jonathan Turner)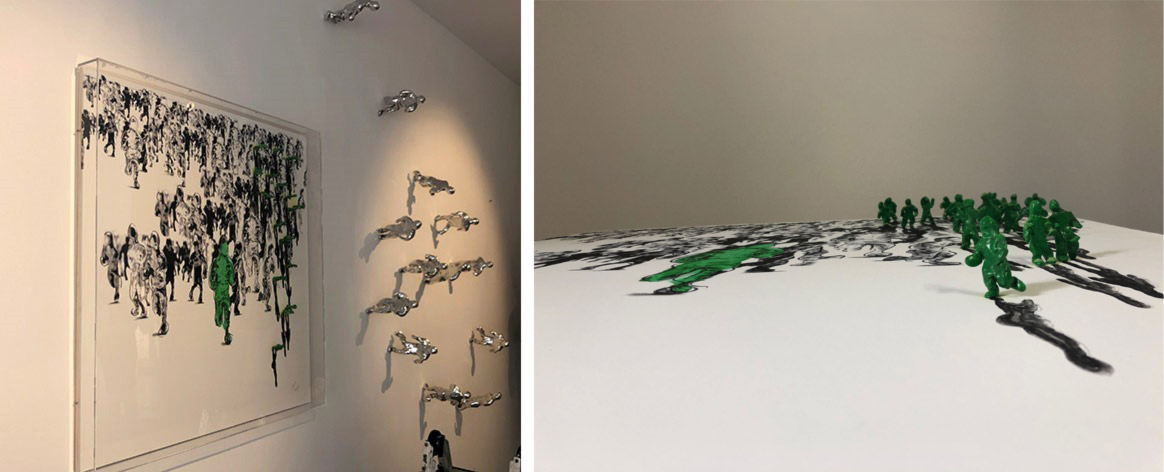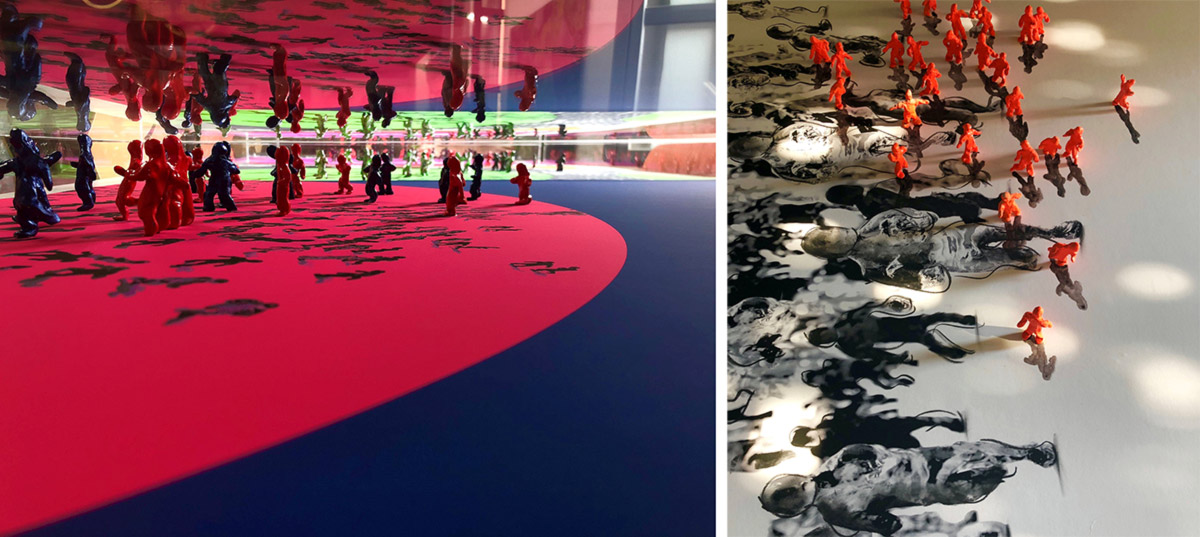 Details of the series of works Believers – There were many in the shadow of the afternoon, 2018, mixed media in methacrylate boxes, 100 x 100cms each.
BELIEVERS INSTALLATIONS GO GLOBAL
Francesca Marti's has further extended her «Believers» series, by installing her groups of migrating figures on walls, ceilings, geometric forms and even walking on the water. Her sculptures have begun to travel the globe, with a sequence of proposals for life-sized installation projects in Germany, southern Netherlands and China.
Her first Believers installation was made up of 99 figures painted in silver and green at Marti's Transformation retrospective at the Danubiana Meulensteen Art Museum in Slovakia in 2017. Since then, other installations have been seen in different locations in Spain, with future Believers projects proposed for Krefeld in Germany, Eindhoven in the Netherlands, and for the Luotang River Future Island Landscape Art Project in China. The theme of the Chinese project is Zukunft und Umwelt / The future and the environment.
Francesca Marti's Believers sculptures with video projection at the Danubiana Meulensteen Art Museum in Bratislava in Slovakia, on a wall at the Gerhardt Braun Gallery in Palma de Mallorca, a virtual installation at the Luotang River in China and her life-sized Nimbus sculpture in Andratx.