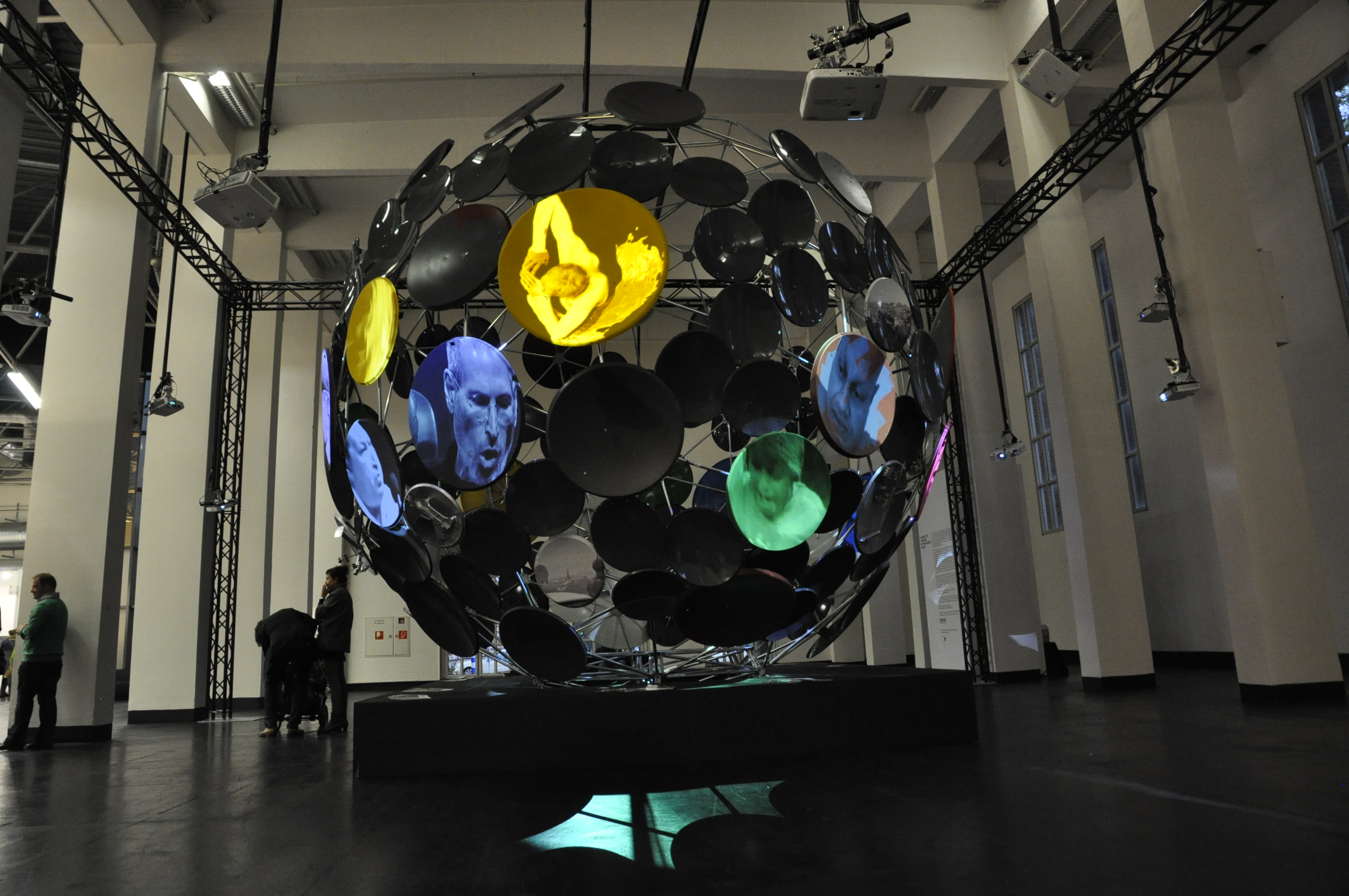 Planet of Fusions is a large-scale, multi-media installation first conceived for ART.FAIR Cologne by Spanish artist Francesca Marti'. It is a huge constructivist globe, 7 metres in diameter, made from 150 recycled satellite dishes painted in different colours. Video portraits, interviews with art-world figures and news broadcasts are projected onto many of these discarded satellite dishes.
"This creates a dynamic network of transmissions, expressing a variety of inner beliefs, political thought, fears, love and hope, using imagery, words and music," says Marti'. "It is about crossing frontiers to record how we truly feel. The models I have filmed in my videos include a cabaret singer from Paris, a Rome-based Australian curator, a Dutch actress, a museum director from Jordan, a Swedish psychiatrist, an Iraqi artist and a Spanish prisoner. They each tell their own stories about where they see themselves in the world of today. It is not important what language they speak, it is the way how they express themselves with honesty. They are calling out to the universe."
Projecting videos on to satellite dishes is, by definition, ironic. Marti' transfers visual imagery onto industrial objects purposely designed to be anonymous and monochrome. She gives new life to mass-produced symbols of communication. She then adds an orchestra of voices to devices which were originally designed to silently receive broadcasts. This is Marti's version of a conceptual short-circuit. The effect is surreal – a distorted face speaking in a moving image projected onto a painted concave surface, once used for high-tech communication. (Jonathan Turner, 2013)
Francesca Marti'. Planet of Fusions, 2012. Videos, 150 recycled satellite dishes, paint, scaffolding, mixed media. 660 x 600 x 600 cm.
Produced in collaboration with EPSON GmbH, Dusseldorf, courtesy Gerhardt Braun Gallery,Palma de Mallorca