[layerslider id=»12″]
The Nomads project purposely involves a team made up of artists, musicians, performers, actors, curators, writers, producers and art-world figures who are themselves nomads, born in one country, raised in another, working in yet another. As a starting point, Mallorca is also an important location, with its long history as a hub of migration, emigration (primarily Puerto Rico, Cuba), invasion, fishing and more recently, tourism.
***
"The idea for the Nomads project first began in Amman in 2008, while I was having an exhibition at the Jordan National Gallery of Fine Arts. With a group of friends I visited Petra. It made a strong impression on me, I immediately felt the past coming to life. Voices as echoes in my ears and my heart, visions in my mind invaded my thoughts. I started to create the projects Tears and Echoes, about the origins of the need for humans to move, to hide, to eat, to hunt, to trade…  For centuries we know about the development of humanity. Now I am asking myself if all of a sudden, we no longer know who we really are.
Today I imagine ourselves at all the different points of the world. We are supposed to be in an economic depression, we are in a global process of mental confusion. Internet is connecting us to a world of fusion and mass communication and satellite dishes. Our beliefs are being changed by new needs, yet the latest studies are being undertaken by comparatively few humans.
I have been collecting groups of figures at markets and second hand shops. I call them "figures of nothing", used during the 1950s to the 1970s in many houses as decoration. They are dressed in the styles of different centuries and nationalities. They all look happy, playing instruments, sitting, talking, eating, in the company of animals, or flowers.
Why do so many people around the world like them? They are kitsch and false icons.  My challenge is to give the "figures of nothing" new life, love, passion, beauty, or another element that has been lost.  Are we lost today? Or maybe we have always been.  Observing groups of people, I ask myself that maybe now, more than ever, we are nomads? Or maybe we are nomads of our senses, blindly following our brains.»
Francesca Marti, 2015
***
"Like in the forced repatriation of illegal immigrants, there is also the forced repatriation of souvenirs. A porcelain figure of a typical Spanish peasant woman is made in China, shipped to Spain, and sold in a souvenir shop as a Spanish item to a Chinese tourist, who then takes it back home to China as a memento of a Spanish voyage. The object is an unwilling nomad, given the emotional value of shared memory, yet free of unwanted irony. When is the nomad an accidental tourist?"
Jonathan Turner, Rome, 2015
***
The Society of Knowledge – The New Nomads.
The following is based on a conversation between Johan Danielson,  Francesca Marti', and Jonathan Turner, 2015
In our time, we are transforming from the industrial era to the era of knowledge (or whatever we want to call it). It is a huge transformation, with striking consequences for our ways of living and developing.
For the first time in centuries people and knowledge, rather than machines, are treated as being the most valuable. Added value is produced by human brains and talent, instead of by machinery. Knowledge and/or talent is the prime source of development and value. It is produced through brain-power, emotions and experience, rather than being manufactured by machines.
Just as the peasant society did not totally disappear but became less important to the wider world, with less people dependent on cultivating the soil, the same is true of the current transformation from the industrial era, where the machine was the value-maker, to the knowledge era.
What consequences do we see? The service sector is growing at a tremendous rate. In some countries it is the dominant economic sector. The value of the individual human being outweighs the value of the machine. We are now starting to measure and estimate intellectual capital rather than inanimate hardware.
Finally we are becoming the value ourselves. At this stage we have the opportunity to became nomads again, but not following migrating animals but trading our knowledge and talent as individuals. This will transform society, values and the way of living. We can see part of it already in terms of certain labour, for example actors, opera singers, football players, artists, scientists and other transportable talents. They have a world market, they can live where they want. More and more, people will develop in this same direction.
Businesses will probably follow innovative talent, the opposite of former patterns.  So we are developing to become nomads with greater freedom, new values and philosophies. We will probably see less dependence to property, less dependence towards a particular piece of soil. Nations, which in the past have been the most efficient way to organize the world/society, will diminish and new global agreements and alliances will emerge.
What the consequences will be are uncertain, but they will certainly transform us. Maybe the «new age of movement» is one sign. We are at the beginning of a new era. What will it bring? How will it transform us and society and our values? Of course the digital revolution makes this transition even more drastic.  Everyone is able to be an instant nomad when they sit in front of a computer screen. Travel is a mental process as well as the result physical migration.
***
Francesca Marti' – Nomads – Aristocracy
The different statues portray notable people from history – they are kings, they are queens, they are workers, or hunters, soldiers, bullfighters. They are travellers or survivors – first wrapped in tape and then cast in aluminium, each holding a separate object painted in a fluorescent colour (a swan, a deer, flowers, a gun, a mandolin, or a knapsack – the most hackneyed, obvious item associated with a folkloric traveller). In some sculptures, the fluorescent object is held near the chest of the wrapped figure, almost like a pulsating heart.
The figure is stately, but covered and masked by the wrappings. The casting gives an impression of the original form, rather than the reality of the form. The silhouette of the figure exists, but the solid reality beneath does not. Technically, the new sculpture is hollow, lending the idea of the spirit and of death. Horrid, cheap, wrinkled plastic tape is wrapped around regal sculptures. This ruins or disguises the memories from the past.
"I've given these figures new memories and new energy," says Marti'. "In some ways, it is a form of mummification. When a person has died, we cover the body. But where has the spirit gone? So in my sculptures, I am embalming the spirit, the energy and the memory."
Small sections or parts of the original statuette or figurine are visible – a shoulder, a hand, or an element removed from the body itself. This might be a utensil held by the figure, or a separate inanimate object or animal. What is more important? The wrapped figure or the separate object?
"It is what I can imagine inside. The reality of the kitsch figure within is not interesting to me, but the concept of what it might be, what is its potential, or how it transmits basic emotions, interacting with the viewer. It is about hiding, revealing and discovery. The "ghost" of the figure can provoke and stimulate curiosity. It is up to the viewer to decide what is the real story behind each partially hidden protagonist."
"Some of the souvenir subjects in my Nomads series are archetypical figures, but they are all equally banal. This overrides the origins of why these sculptures were first produced as commemorative, religious, military or purely decorative items."
Several figures have strong historical pedigrees – emperors, popes, politicians, royalty – mixed with the more anonymous subjects representing the masses. The autonomous leader is the queen bee in charge of the swarm, the king of the castle, the alpha male who rules the roost. It is a surreal community of figures of power, their identities now hidden. Marti' pays respect to the arrogance or posture of the original souvenir, rather than to the notoriety of the person it depicts. The proud aristocracy of a single souvenir rules over the mass-produced plebeians in Marti's other works, gathered together in groups.
March 2016, Jonathan Turner
***

Cities in a Crooked Line – Bratislava, Rome and Yangoon, 2016
Photographs printed on crumpled zinc plate, approximately 100 x 100 x 25 cm each
from the retrospective exhibition Transformation at the Danubiana Meulensteen Art Museum, Bratislava
CITIES IN A CROOKED LINE and SWARM

Nomads is a broad series which incorporates all of Marti's recent works thematically based on migration, including her wrapped metal sculptures, souvenir statues, crushed photos and photos printed on zinc, the Migrant Angel performance-video, satellite dishes (the ongoing idea of the satellite dish as a transmitter, which Marti' previously outlined in her Reflections series) and the sub-series of Cities in a Crooked Line and Swarm.
   The photographs of close-up details of Cities in a Crooked Line become Zoom Cities, representing urban details within a larger metropolis. Many of these works take the form of computer-altered colour photos printed on zinc panels, then folded, crushed and suspended within painted and lacquered satellite dishes. The Swarm series is focused on groups of people in motion – pedestrians, migrants and refugees arriving at new destinations, flocks of bicycles, busy streets, airports, train stations, shipping ports, – unknown people in mass movement, caught on camera by Francesca Marti in numerous global cities. Her individual portraits focus on a single nomad in one of the various cities Marti' has visited – Amman, Amsterdam, Bangkok, Berlin, Bratislava, Colombo, Hanoi, Havana, Jaipur, London, Madrid, Rome, Saigon, Seoul, Stockholm, Yangoon and Zanzibar.
Installation view 2016: Cities in a Crooked Line – Saigon 2009, Hanoi 2009, Rome 2010, London 2016, photographs printed on zinc, photography on perspex, painted and lacquered satellite dish, 200 x 500 x 30 cm
«Recently my vision of colours has changed and been modified,» says Francesca Marti'. «The new colours are an illusion of energy.  A choice for a certain colour initially starts as a perception of light and emotions, inspired by my project about mussels. (Her bronze sculptural project for Belgium based on the forms and irridescent colours of the insides of mussels shells, in which the shells themselves also recall the forms of Marti's satellite dishes). Without seeing a single colour, inside the mussel shells, I began to see all the opalescent colours, connected directly to the concept of energy, because light is also energy itself. The illusion in our brain is transmitted through natural and artificial lighting, and this is part of my new research.
   Just like when you go to a particular city, Seoul for example, there exists an enormous glow of artifical light, neon, led screens, spotlights, fluorescent shop signs. This fundamentally alters colour, making it bright and glossy. This is both during the night as well as at daytime. It shows another type of power, or energy, or charge. It accentuates the contrast.»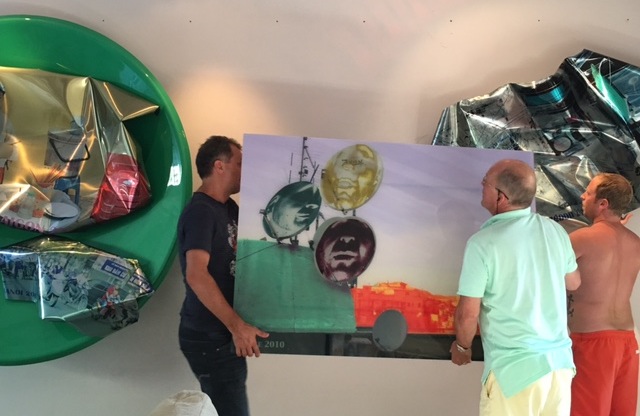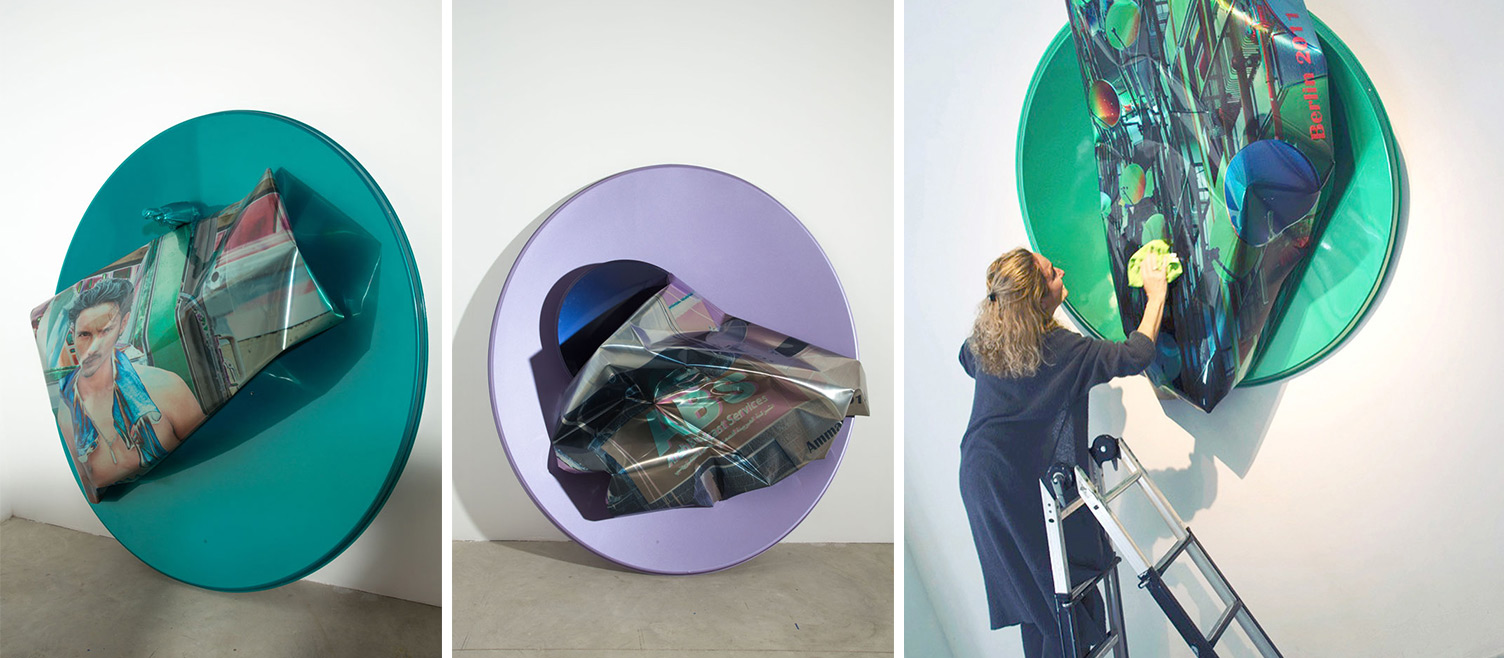 Cities in a Crooked Line – Satellite series, Burma and Amman. Portrait of Francesca Marti' installing Berlin (2011-2016) at Gerhardt Braun Gallery, Mallorca.
Crushed photographs printed on zinc plate, resin sculptures and satellite dishes painted with automotive paint.
Q: What are «Cities in a Crooked Line»?
FM: «I try to depict images of those cities which help to give me an answer to my own questions about how I feel in a city and how I how I observe a city from the viewpoint of an outsider. I realize I don't fully understand the whole urban system in each city. My question instead is always how a city can be sustainable. When I see these places crowded with cars and people and wiring and signs and shops, so many products and all the rubbish, I want to express my own feelings about how this city can survive, and how many years it will take before it falls.
   Zoom Cities is my observation in another way, when I take the camera to a specific site. Before I was talking about entire cities, and landscapes, and now, when I zoom in, I see a particular, anonymous person walking from one place to another. I ask myself who are they, where do they come from, how do they fit in? It is often an individual person alone in a busy space, at an airport, metro station, wharf, shopping centre or food market.
   I always try to capture a moment as part of a wider situation. A single person grabs my attention by what he or she is doing, how they dress, how they hold themselves. In their body language, you can sense their feeling of loneliness, loss and frustration, or alternatively, their relaxation, pride or self-confidence.»
Q: So is it about how we now perceive the codes of communication?
FM: «What is curious, is how individuals sometimes act when they are part of a larger group. I often photograph people walking in big groups, all talking on their mobile phones at the same time. They are in communication to a wider world, either speaking to other people or connected to the news or to an information site. They are addicted to communication in a world already full of people. They might be sitting waiting for a bus, train or plane. In their communication, you sometimes hear their conversations. I can often hear a lot of words being said about nothing. I think our ability to communicate clearly is changing, both publicly and privately. In the past, people used less words and were more profound. Today I see it is more about long-winded banalities and sound-bites.»
Q: As an outsider how do you «read» a foreign city, its culture and behaviour?
FM: «I make a distinction between the local people, the migrants and also those luxury nomads, the wealthy visitors. But what we often see gathered together in the largest numbers are the new arrivals and the mass tourists. What is important, and what impresses me most, are how groups of immigrants and refugees are able to interpret their new homes, and integrate, and create new lives.»
Q: Describe your Swarm series.
FM: «Swarm looks at the flux of massive groups of people. A swarm is usually a colony of insects or a cloud of migrating birds. But it can also refer to people, cars, commuters.  Is everyone a follower? There is usually one leader conducting, the rest are migrating. It's about the group dynamic. Wherever we go in the world, our travels are always spherical and cyclic. We forget that it is in a curve. We can essentially move in any direction. In our minds, maybe we already project the scope of the infinite, not the closed circle. This is why we draw a straight line with no end.»
Texts and interview by Jonathan Turner, Mallorca, July 2016
***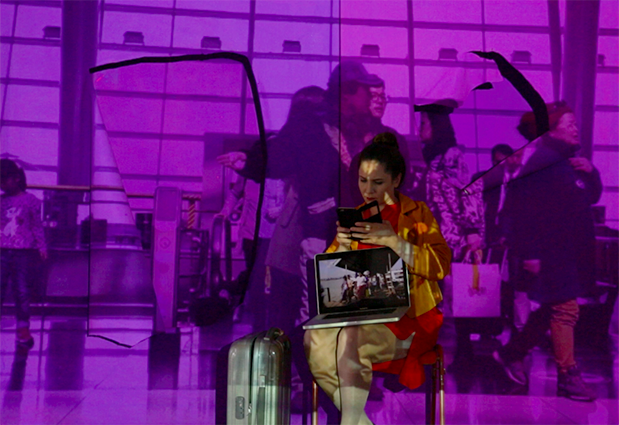 FRANCESCA MARTI'
The MIGRANT ANGEL
Performance, painting on canvas, video installation
May, 2016
Performance, Studio Francesca Marti', Mallorca, Spain
Improvised song, extended vocal technique and performance by Gunnlaug Thorvaldsdottir (Gulla)
Camera-work and editing: Miguel Muntaner
10 minutes
The Migrant Angel (2016) brings together a new evolution in several different strands of Francesca Marti's art practice. Her painted, torn canvases provide the backdrop for a performance. For the first time, Marti' has also projected her own films from Korea and Burma onto the canvas as part of the multi-layered video installation and sound-scape, and introduced further hand-held technology into the painted scenery in the form of a mobile phone and a personal computer.
Spanish artist Francesca Marti' and Icelandic performer Gunnlaug Thorvaldsdottir (Gulla) first met in Stockholm in 2015 to begin discussing the creation of a collaborative video, as part of Marti's ongoing exploration of the theme of nomadism. They discovered that they shared many of the same emotions and ideas about the plight of displaced immigrants today, and the strange sense of limbo which travellers sometimes feel when passing through an international airport. Marti' has stage-managed and recorded this in the Migrant Angel.
THE CONCEPT:
Francesca Marti: «From the origins of the human being till today, migrants and nomads have functioned in different ways. For the story of the Migrant Angel, through the use of her expressions and movements, Gulla represents a new type of nomad: a contemporary traveller overloaded with connectivity and information. The Migrant Angel is about migration today, the attraction that brings people to big cities, massive rivers of travellers, sometimes the result of religion, war, and poverty. Cities are made of people. A city can fall when it becomes empty and deserted, but it can also fall when it is full of people, due to war or other reasons.»
«A traveller can move physically, but also virtually. A traveller who uses the internet follows different subjects and paths. Today, technology seems to be invisibly plugged into our brain. Our minds are changing in relation to time… and our concept of time is growing faster.»
THE VIDEO:
Francesca Marti': «For the setting of the performance, I have painted two canvases in a strong and vibrant purple colour. The two canvases represent «home», with two holes cut into them, one as a «door», one as a «window».
Gulla's performance is in response to what the internet and connectivity brings. She reacts to her mobile phone and takes her portable computer out of her luggage. She expresses her strong feelings of communication with her voice, but using no specific words or language. She sits on a chair in an airport lounge. Is she is arriving? Waiting to start a new life? Waiting for the unknown? On the screen of her computer, we see a film of masses of people in movement, like in a television news report. This is a film I made in Burma in 2014 of a boatload of migrants arriving at the border. It is one of many videos I have filmed over the years of groups of people disembarking in ports, airports, subway stations and other sites of transit.»
«On the canvas itself, I have projected another of my videos, showing passengers walking through the arrivals hall in Seoul Airport. The passengers pass across Gulla's body. So by merging with the video, Gulla as the Migrant Angel becomes part of a bigger, bustling reality, part of the moving landscape in transit.»
«In the start of her performance, Gulla is a traveller, but one of many. She begins to express her joy, anger and fear in song. The background noise of the airport gradually fades as she begins to connect to the broader world. Then, when she eventually moves behind the canvas, she is at home. She first appears behind the canvas in the small hole, like a window.
In Gulla's performance, when she was trying to get out through the small window opening in the canvas, she showed a strong mood of angst. Then she moved to the «door», the larger exit. Stepping out through this «door», she was surprised by the unknown. But it can also be interpreted as the reverse; the surprise can exist inside the soul. This idea stems back to my works from the Echoes and Tears series beginning in Jordan in 2007, inspired by the Nabataean nomads who travelled to Petra from Ethiopia. They chose the mountains and natural caves in Jordan as protection, to be safe and warm. The Migrant Angel is a spirit who seeks the same feeling of refuge and freedom.»
«My idea was that Gulla would first express her concept of migration in a personal manner, as part of her own spatial integration, but also her integration in the space of an airport, in this case in Seoul. At any airport, people are sitting around, using their computers, talking on their mobiles, communicating, they are going home, from different points in the world. An airport is an artificial border, but it's also a place where you can travel with your mind. It is a meeting point, where paths cross. A space of nowhere, of emptiness. There is a sense of peace, you are able to observe, to read, to talk, but it's also a place of stress, angst and provocation. I wanted to capture this dual atmosphere.»
«I have witnessed the human dilemma of being attracted by your own opposite emotions, by negative and positive conflict, and dealing with your own difficult emotional stance. Sometimes you ask yourself do I cry, or do I reach for the smile? It's often a choice. Gulla was enacting these two opposites.»
Gunnlaug Thorvaldsdottir (Gulla): May 2016
«For my performance as the Migrant Angel in Francesca's video, I was channeling different people, receiving an overload of many different frequencies, with different voices coming through. Masses of information travel the airwaves, thousands of pieces of information, simple things, bad news, conversations, so many transmissions.»
«So in my vocal soundscape, I express these changing moods as suggested by Francesca. I imagine that just like a mobile phone or a lap-top, my brain is also receiving so many different emotions and feelings, picking up on tragic news reports and happy people, nostalgia, and mothers hearing their children, people talking to their lovers…..»
«Emotions came naturally throughout the performance in Francesca's studio – happiness, sadness, surprise, longing, anger, impatience. Part of this was in response to Francesca's video about a boat of migrants arriving at a port in Burma, which plays on my computer screen during the performance. We all see what is happening today with refugees, and the frightful situation of people being lost and scared. But it has both positive and negative connotations. It is wonderful that people are given a chance to find a better, new life, but it is terrible to learn about all the struggles they have survived.»
«An airport is a place where you aren't really there, you are either leaving or arriving. I travel non-stop, and when I am traveling, I exist in a different, anxious zone, even though I am also very happy to be on the move. Part of me wants to stay behind, but the other part of me knows I can't survive too long in the same place. We are very lucky when we have the chance to change our own borders.»
«In Francesca's video, the first part shows me sitting at the airport, with the feeling of being torn between several places. Then the second half is the strange discovery of something new and unexpected within her painted scenery, as though I am returning home. I have this same feeling whenever I go back to Iceland. It's a struggle to get beyond the frame. It takes energy. Do you emerge or do you get dragged back into the safety and security of what you already know?»
(Interviews by Jonathan Turner)
MA'AT
In Egyptian mythology, Ma'at was the goddess of truth, justice and cosmic order, daughter of the sun god Ra. She was depicted as a young and beautiful woman, standing or seated, sometimes with wings and with an ostrich feather on her head, which she used to adjust the scales of justice. In ancient Greece, she was the goddess Themis, in Rome she was Justitia often depicted in a blindfold (literally blind justice). In the astrological horoscope, she is Libra holding the balancing scales.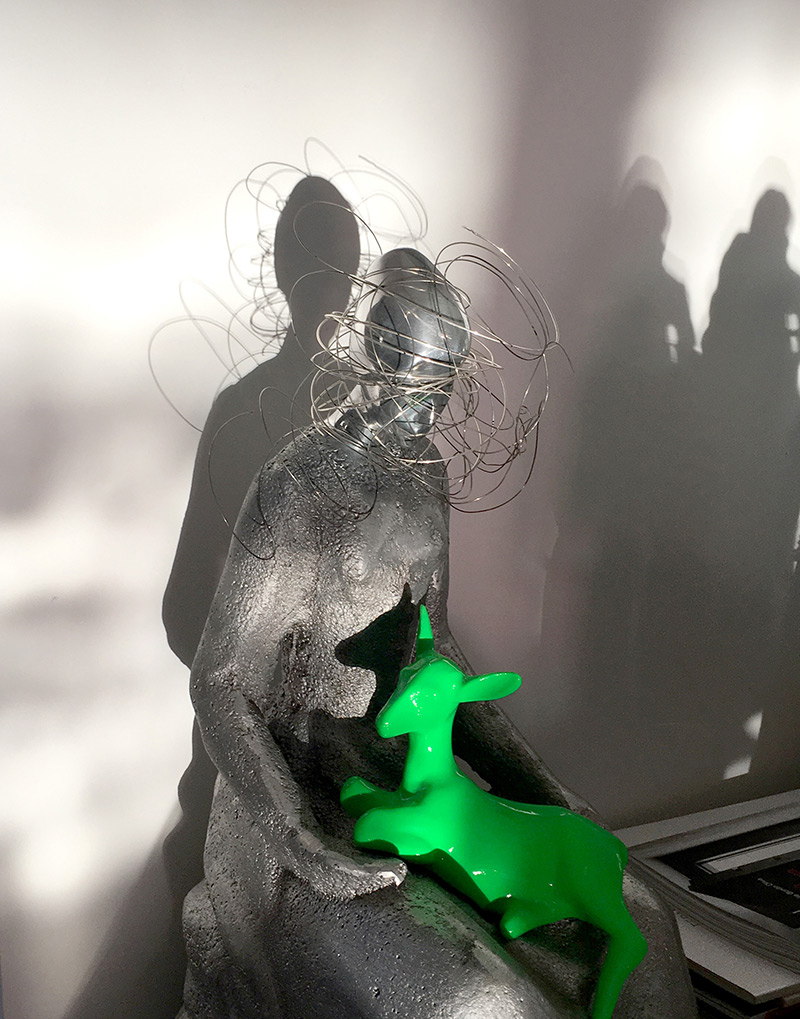 "Does technology today provide balance or does it upset equilibrium?" asks Francesca Marti'. "We live at a time when we are saturated by non-stop information, sometimes without filters or little focus, both in terms of our own algorithms and those of the computer programmers who send us the information. It is a stream of disturbances. How is this current period going to change the way that our brains work in the future?"
In 2017, Francesca Marti produced a sculpture of Ma'at, holding a tablet in her hands, but the figure turns the flickering screen away from her. This life-sized sculpture is made from rough-cast aluminium, wrapped in polished "fabric", and it was exhibited as part of her Kingfisher solo exhibition at the Gerhardt Braun Gallery in Palma de Mallorca.
"You don't really know if she is a goddess or simply a woman, because she is partly hidden," says Marti about this sculpture. "Her face is shrouded. She does not look at the computer screen in her lap. She is ignoring the chaos and disorder of today's communication overload."
Now Ma'at is the subject of a performance staged in Marti's Mallorcan studio in early September. Ma'at has been personified by Madaleine Trigg, a lecturer in performance arts at the Royal Central School of Speech and Drama in London. Trigg appears as the mythological goddess, swathed in pale fabrics, dusted with white powder. She holds white feathers in her hands, and during the performance, we see her try to adjust to the new world of mass communication. In some scenes, she holds a silver satellite dish in her hands, both as an object to receive information as well as a device to help project her voice. Will Ma'at win against the influx of chaos, or will her balance be over-turned?
"In our relentless pursuit for constant on-line communication, are we losing our ability to have meaningful dialogue or conversation?" asks performer Madaleine Trigg. "Are we addicted to communicating in a series of independent statements, not waiting to listen to the answers? It's difficult to have clarity when there are so many voices."
According to Marti', the Ma'at performance is about tracking the inter-relationship between acceptance and resistence, equilibrium and stress, destruction and regeneration, subtle movements and static expression. Ma'at voices several of Marti's philosophical queries. "Are we migrants, traveling within our own souls? How do you absorb chaos, or how do you actively navigate yourself out of chaos?"
"We need to find balance again," continues Marti'. "This is a transitional moment in the communication age. We are witnessing the evolution of the artifical brain. Where does Ma'at now sit on the Information Super-highway, at a time when technology can be a confusing tool? In mythology, Ma'at held chaos in check."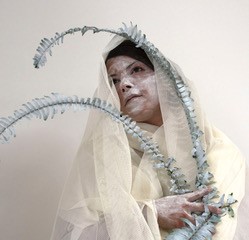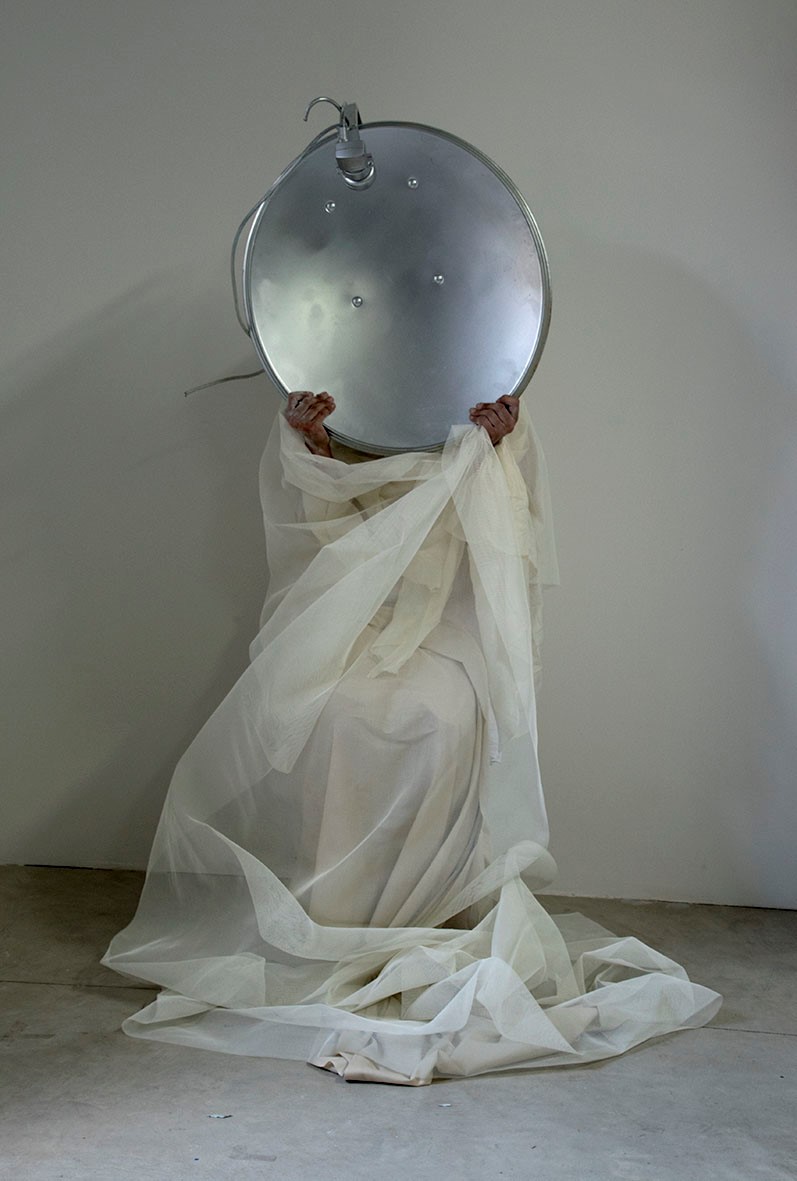 ____________________________
The performance
Ma'at slowly enters the space, with a stately walk, almost as though she is part of a procession. She is pure. Dressed in white, she carries the feathers that symbolize the natural sense of balance. She introduces herself to the world, chanting her own name. She feels the space, reaches up, stands on tip-toes, loses balance and slowly become unstable, as the first flashes of information hit her body. They reach her soul. She reacts as though her nervous system has been jabbed. Her body successively displays moments of free action, frozen poses and convulsive movements. Eventually when too much random technological information arrives, it overpowers her and Ma'at falls to the floor.
_____________________________
Ma'at was performed by Madaleine Trigg and filmed by Miquel Muntaner Estarellas in Mallorca on September 1, 2017. The video performance is part of a larger multi-media project devised by Francesca Marti'. It will be further elaborated as an installation-performance together with Madaleine Trigg and students from the Royal Central School of Speech and Drama in London, with whom Marti' previously collaborated as guest lecturer, for her Nomads project in 2014.
Save
Save
Save
Save
Save
Save
Save
Save
Save