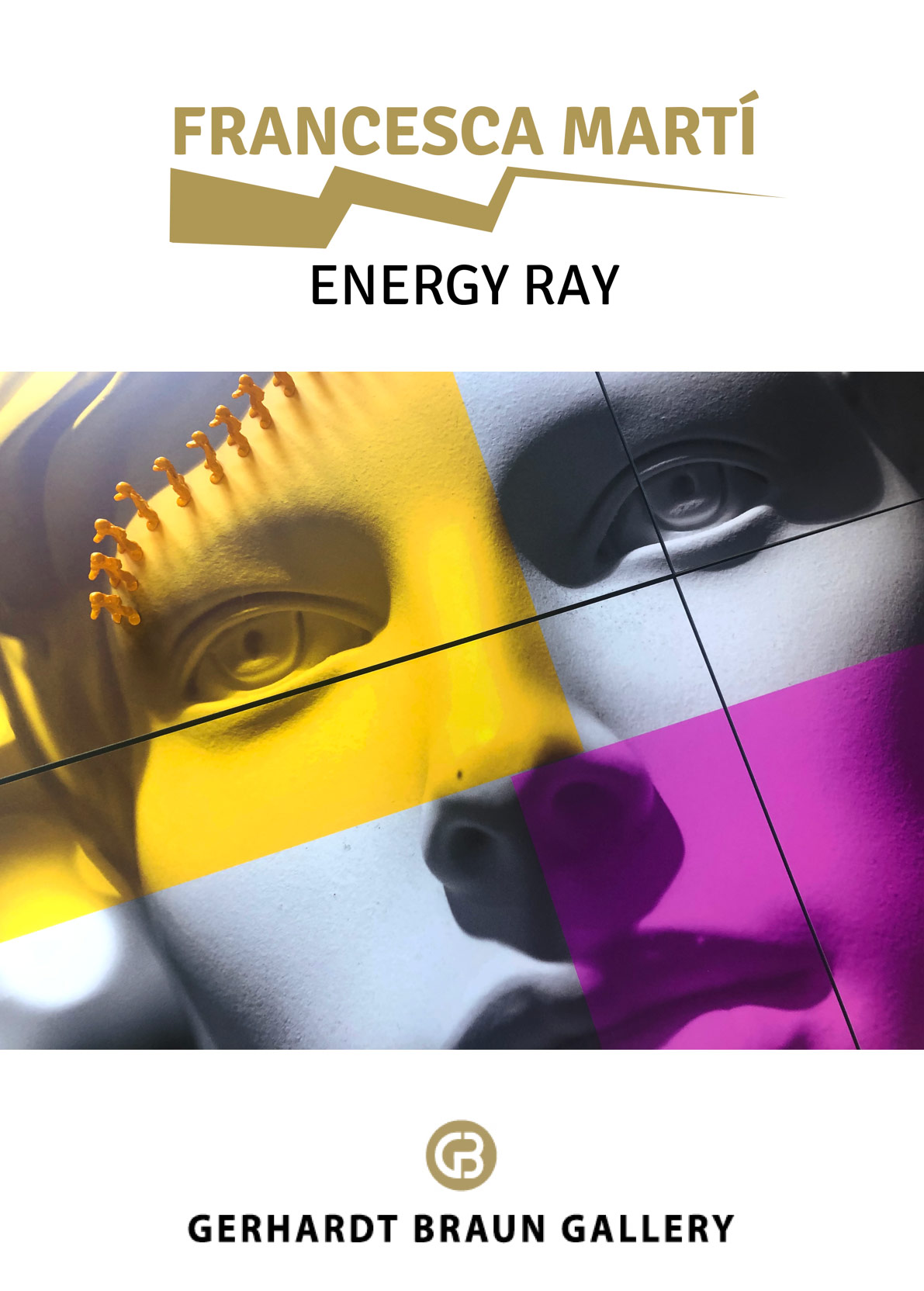 In her third solo show with Gerhardt Braun Gallery since 2013, Francesca Marti' will be exhibiting brand new installations and her most recent Believers mixed media works, as part of Energy Ray, opening on June 28, 2019. Figures travel in groups across backdrops of urban landscapes in Madrid, New York, Stockholm and Shanghai. Sometimes they seem to be searching for new horizons. Other works show the enlarged faces of anonymous mannequins, with surreal chains of figures walking in single file across their physiognomical features.
"The life-like figures of the mannequins are without a soul, but they are given new spirit by the energetic Believers walking across them, just like the fly who first walked across the faces of my models in The Fly series," said the artist. Marti's recent work poses questions for mankind about what it means to be a human today, including aspects of migration, communication, social responsibility and how we express the divide between the traveler and the refugee.
The exhibition features Marti's central Energy Ray installation, a series of purple lightning bolts painted in the courtyard space of the gallery, a life-sized sculpture of a Believer painted in glowing, burnt orange and different groups of figures assembled in processions, crowds and congregations. A large satellite dish forms the core of another installation, studying life in the city, and incorporating images of people in mass movement. This monumental work was previously seen in Marti's Transformation retrospective (2017-2018) at the Danubiana Meulensteen Art Museum in Bratislavia, Slovakia. As always, Marti's work focuses on the human dynamic. Her artworks analyse human behaviour, whenever crowds of people are gathered together at political demonstrations, religious rites, commuting to work or even as a group of fans at a sporting event.
This large scale solo show will also feature a series of previously unseen oil paintings Marti' completed in the mid-1990s, based on the theme of regeneration. These works were inspired by the wild-fires that raged in the hills around Soller in 1992. Marti' depicted the scorched earth, dried creeks, burnt olive trees and dead animals, as well as the gradual process of Mother Nature coming back to life in the aftermath of the dramatic destruction. After they were completed, these canvases and works on paper were set aside by the artist when she began her research into new photographic techniques, which resulted in her photographs, collages and videos which formed The Fly series. Now, after two decades being hidden in her studio, Marti' is re-proposing these works at her new exhibition in Palma to reveal how her exploration of colours, subjects and themes have continued to evolve. She is also creating a new installation from the wood from ancient olive trees burnt by the same fires more than two decades ago, entwined with red led-lights glowing like embers.
(curator, Jonathan Turner)
Francesca Marti' – Energy Ray
Gerhardt Braun Gallery
Carrer de Sant Feliu, 12, 07012 Palma de Mallorca, Illes Balears. Spain. Phone: (+34) 971 717493
June 28-September 14, 2019
www.gb-gallery.es