INVITATION
GREEN SWARM by FRANCESCA MARTÍ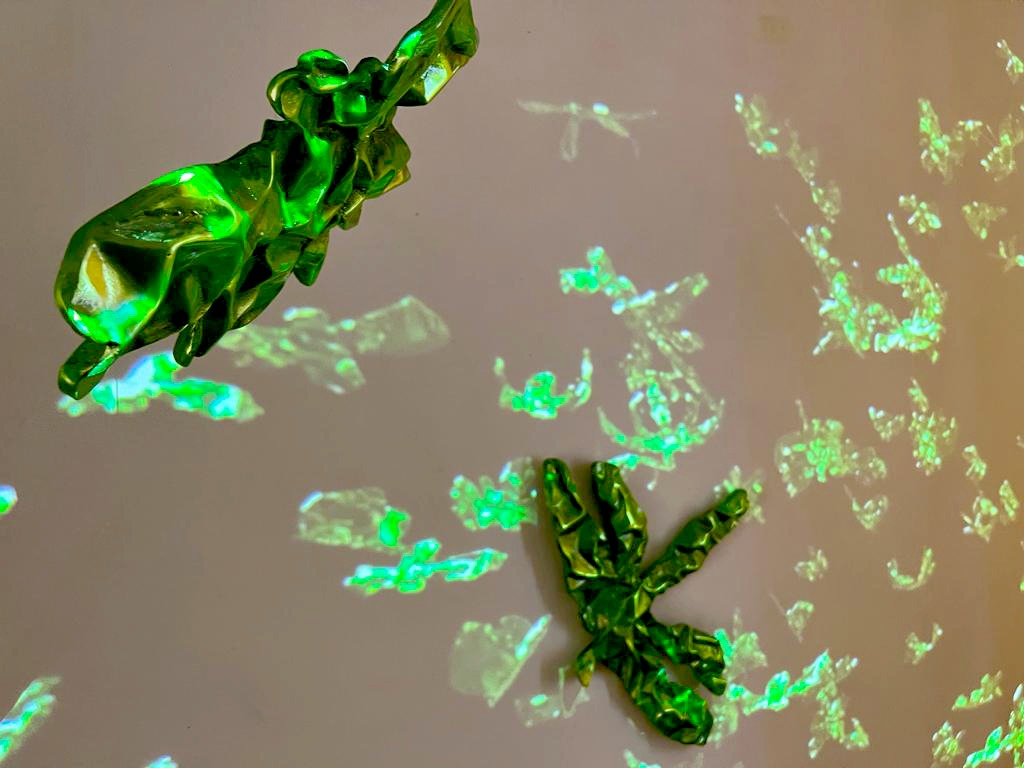 Green Swarm, a new exhibition of sculpture, video, and photography by Spanish artist Francesca Martí, presents her visual research about the themes of collective behavior and herd mentality. This includes her images of crowds in different cities and her groups of small Believers sculptures representing anonymous commuters and migrants arriving at new destinations. Martí's new show features an installation of a swarm of painted aluminum sculptures of flies, butterflies, and dragonflies, a sequence of large colour photographs, and a new video projection produced by the artist in collaboration with LADAT (the department of animation and audio-visual technology, established in 1988 in Palma as part of the University of the Balearic Islands).
For Martí', the common fly can sometimes be seen as her alter-ego. The fly first appeared as a protagonist in Martí's works in 1999, leaving a trail of pigment on her human models. Dragonflies and butterflies feature in her later portraits, photographs, performances, and videos. But as always, Martí's various works are inter-connected, both visually and thematically. Her current exhibition emerges from her studies about how individuals interact.
«Green Swarm is literally about poetry in motion,» says Francesca Martí. «In a swarm, not everyone is a follower. There is usually one leader conducting, the rest are migrating. It's about the group dynamic. For me, the Green Swarm represents the cycle of life.»
Originally conceived for the Zhuzhong Art Museum in Beijing and Xiao Hui Wang Art Museum in Shanghai in 2019, and re-elaborated in Mallorca in 2021-2022, the Green Swarm exhibition is curated by Jonathan Turner, with a musical soundtrack by Zack Hemsey. It will be Francesca Martí's sixth solo show at the Gerhardt Braun Gallery since 2013.
Gerhardt Braun Gallery
Calle Sant Feliu 11, Palma 07012. Mallorca, Spain
The exhibition will be open to the public from July 15 until September 15, 2022 from 11:00 until 19:00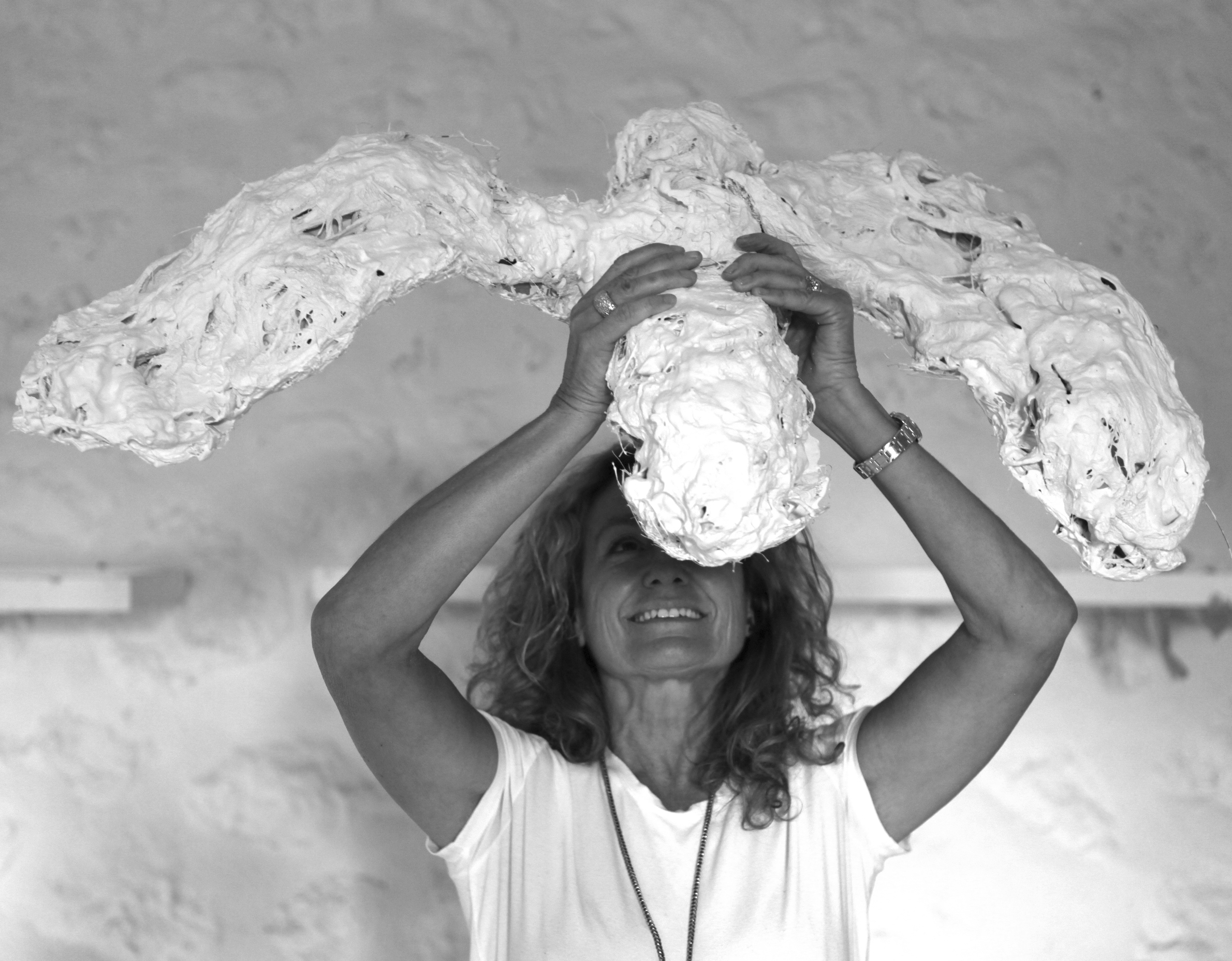 Francesca Martí presenta, en Enjambre verde (Green Swarm), algunas de sus recientes investigaciones sobre los comportamientos humanos collectives y las mentalidades grupales. La multidisciplinar artista lo hace con tres de sus medios más característicos: escultura, fotografía y audiovisual.
Los recursos formales incluyen fotografías que ella misma hizo de aglomeraciones de personas en distintas ciudades del mundo y escenificaciones con grupos de sus pequeños Believers, esculturas que representan a urbanitas pululantes y anónimos y a migrantes que logran llegar a sus destinos. La instalación, que da nombre a toda la exposición, representa un enjambre de mariposas, y libélulas escultóricas en aluminio pintado. Además, Francesca muestra fotografías de gran formato y una video proyección creada en colaboración con LADAT(Animación y Tecnologías Audiovisuales de la Universidad de las Islas Baleares).
Martí considera la mosca su alter ego occasional. Aparece como protagonista de su obra desde 1999, cuando uno de estos insectos se posó sobre un dibujo que estaba haciendo y, casualmente, trazó una estela de pigmento al moverse sobre el papel. Las mariposas y las libélulas hacen acto de presencia en sus posteriores fotografías, videos y performances. Y es que su polifacética obra está siempre interrelacionada, tanto formal como conceptualmente. Esta nueva instalación surge de sus reflexiones sobre la manera en que los individuos interactuamos.
En palabras de la artista: «Enjambre verde es, literalmente, poesía en movimiento. En un enjambre, no todos son seguidores. Suele haber un líder que dirige, el resto son migrantes. Se trata de la dinámica de grupo. Para mí, El enjambre verde representa el ciclo de la vida».
Obra originalmente concebida para los museos de Arte Zhuzhong (Pekín), y de Arte Xiao Hui Wang (Shanghai), en 2019, ha sido versionada ahora en Mallorca, durante 2021 y 2022, bajo el comisariado de Jonathan Turner. La banda sonora es de Zack Hemsey. Esta es la sexta exposición individual de Francesca Martí en la Gerhardt Braun Gallery desde 2013.
Gerhardt Braun Gallery
Calle Sant Feliu 11, 07012 Palma
La exposición estará abierta hasta el jueves 15 de Septiembre, 2022 de 11:00 hasta 19.00h
Calle Sant Feliu 11 – 07012 – Palma
gallery@gb-gallery.es – T+34 971 717 493 www.gb-gallery.es