Exhibition by Francesca Marti' at the Bodega Son Mayol, Mallorca, presented by Gallery Gerhardt Braun Palma/Andratx.
June 25, 2018
This selection of recent works by Francesca Martì, created in techniques ranging from bronze sculpture and charcoal drawing, to painting, performance and video, all show clear links in terms of her recurring themes such as contemplation, fragility, energy and migration. They also show Martì's ongoing relationship and shared sense of innovation with Gregory Hirschmann at the Bodega Son Mayol, and her involvement in the broader landscape of her native Mallorca.
The works exhibited include a large painting on canvas from Martì's Soul 2006 series. This painting was one of the initial inspirations for the design of her first wine label for the Bodega Son Mayol, produced for its 2013-2014 Cabernet Sauvignon/Merlot blend. The image is emblematic of Marti's artistic reflection about the inner energy that moves people to discover their place in the world, to build individual identities and a sense of freedom. The fluid silhouette on the label shows the movement of a human body in an imaginary space. According to Francesca, "this image can also symbolize the body, colour and sensuality of wine."
Marti's sense of the spirit of movement and dance is also evident in her «Painting the Soul» video and the performance by Elsa Montenegro. This Mallorcan dancer and performance artist interprets the role of a living "Dreamer", making shadowy movements, taking the same positions of Martì's sculptures, mimicking their gestures and re-interpreting their personalities. Elsa reveals a more feminine approach to the androgynous male forms of Martì's bronzes. Dressed entirely in red, Elsa also mirrors the sensual figures in Francesca's painting "Love with Shadows", performing to original music composed by Daniel Alzamora-Dickin.
Migration is a recurring subject in Martì's work. In Transit (2017) is a large charcoal drawing of porcelain figures standing in two orderly lines, as though they are awaiting passport control. Border Point (2017) is made from a group of souvenir figurines assembled as a mountain inside a recycled satellite dish, then painted with red car lacquer. Each figure seems to be trying to climb to the top of the peak, like refugees struggling for freedom. Meanwhile, Marti's Dreamers sculptures in polished bronze and painted aluminum, along with her accompanying Dreamers drawings, exist on a more calm, pensive and introspective level.
Francesca Martì was born in Soller in Mallorca. She has exhibited in solo and group exhibitions in galleries and museums in Spain, Italy, Germany, The Netherlands, Belgium, Sweden, Egypt, Israel, Dubai, Jordan, South Korea, Australia and beyond. Her Transformation exhibition at the Danubiana Meulensteen Art Museum in Bratislava in Slovakia in 2017 was organized as a retrospective of more than 100 works since 1999. She is represented in Spain by the Gerhardt Braun Galleries in Palma de Mallorca and Andratx.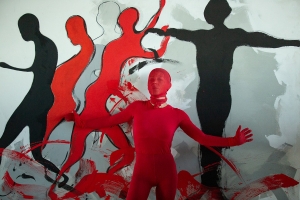 —————————————————————-
La Galería Gerhardt Braun presenta obras de Francesca Martí en la Bodega Son Mayol, Mallorca
25 de Junio, 2018
Esta selección de obras recientes de Francesca Martí, creadas en técnicas que abarcan desde la escultura en bronce hasta el dibujo al carbón, la pintura, la performance y el vídeo, tienen en común que ejemplifican cuestiones relativas a la contemplación, la fragilidad, la energía y la migración. También muestran la continua relación y el mismo sentido de innovación que comparten Francesca Martí y Gregory Hirschmann – materializado aquí en la Bodega Son Mayol – y la implicación de la artista en el paisaje más amplio de su Mallorca nativa.
Las obras de Martí aquí expuestas incluyen una pintura sobre lienzo de gran formato de la serie Soul 2006. Esta pintura sirvió de inspiración inicial para el diseño de su primera etiqueta para la Bodega Son Mayol, cuya imagen es emblemática de la reflexión artística de Martí sobre la energía interior que mueve a la gente a descubrir su lugar en el mundo, construyendo identidades individuales y el sentido de libertad. La fluida silueta de la etiqueta, muestra el movimiento de un cuerpo humano en un espacio imaginario. Según Francesca, "esta imagen puede también simbolizar, el cuerpo, color y sensualidad del vino".
La sensibilidad de Martí para captar el espíritu del movimiento y la danza es también evidente en su video Painting the Soul y en la performance especial interpretada esta noche por la bailarina y performer mallorquina Elsa Montenegro, que interpreta el rol de un Dreamer viviente, haciendo intrigantes movimientos, ocupando el lugar de las esculturas de Martí, imitando sus gestos y reinterpretando sus personalidades. Elsa ofrece una aproximación más femenina a las andróginas formas masculinas de los bronces de Martí. Vestida enteramente en rojo, ilustra las sensuales figuras de la pintura de Francesca Love with Shadows, interpretando la música original compuesta por Daniel Alzamora-Dickin.
La migración es un tema recurrente en la obra de Martí. In Transit (2017) es un dibujo al carbón de gran formato de figuras de porcelana en pie en dos ordenadas hileras, como si estuvieran esperando pasar el control de pasaportes. Border point (2017) es un conjunto escultórico integrado por típicas figuritas de souvenir intervenidas que aparecen apiladas sobre una antena parabólica reciclada y pintada con laca roja de coche. Cada figurita parece estar intentando trepar a la cima de la pila, como esos refugiados que luchan por su libertad.
Las esculturas de la serie Dreamers de Martí en bronce pulido y aluminio pintado en rojo además de sus complementarios dibujos de Dreamers existen en un nivel más calmado, pensativo e introspectivo.
Francesca Martí nació en Soller, Mallorca. Ha expuesto en exposiciones individuales y colectivas en galerías y museos en España, Italia, Alemania, Holanda, Bélgica, Suecia, Egipto, Jordania, Israel, Dubai, Corea del Sur y Australia, entre otros países. Su exposición retrospectiva Transformation, presentada en el Danubiana Meulensteen Art Museum de Bratislavia, Slovakia en 2017, incluyó más de 100 obras desde 1999. En España la artista es representada por la Galería Gerhardt Braun de Palma y Andratx, en Mallorca.