As well as her forthcoming exhibition projects in Brazil and China, Francesca Marti's latest works will be seen in three different shows in coastal Spain over the summer months, in Palma de Mallorca, Ibiza and Marbella.
Francesca Marti' – Energy Ray opens on June 28 at Gerhardt Braun Gallery in Palma de Mallorca, her third solo exhibition with the gallery since 2013. This large scale solo show will feature a series of previously unseen oil paintings Marti' completed in the mid-1990s, based on the theme of regeneration. These works were inspired by the wild-fires that raged in the hills around Soller in 1992. Marti' depicted the scorched earth, dried creeks, burnt olive trees and dead animals, as well as the gradual process of Mother Nature coming back to life in the aftermath of the dramatic destruction. After they were completed, these canvases and works on paper were set aside by the artist when she began her research into new photographic techniques, which resulted in her photographs, collages and videos from The Fly series. Now, after two decades being hidden in her studio, she is re-proposing these works at her exhibition in Palma to reveal how her exploration of colours, subjects and themes have continued to evolve.  She is also creating a new installation from the wood from ancient olive trees burnt by the same fires more than two decades ago, entwined with red led-lights glowing like embers.
Alongside her more classically painted works, Marti' will be exhibiting brand new installations and her most recent Believers mixed media works. Figures travel in groups across backdrops of urban landscapes in Madrid, New York, Stockholm and Shanghai. Sometimes they seem to be escaping persecution, or celebrating new horizons. Other works feature enlarged faces of anonymous mannequins, with surreal chains of figures walking in single file across their physiognomical features.
«The life-like figures of the mannequins are without a soul, but they are given new spirit by the energetic Believers walking across them, just like the fly who first walked across the faces of my models in The Fly series,» said the artist. Marti's recent work poses questions for mankind about what it means to be a human today, including aspects of migration, communication, social responsibility and how we express the divide between the traveller and the refugee.
The exhibition includes Marti's central Energy Ray installation, a series of lightening bolts painted in the courtyard space of the gallery, a life-sized sculpture of a Believer painted in glowing, burnt orange and different groups of figures assembled in processions, crowds and congregations. A large satellite dish forms the core of another installation, studying life in the city, and incorporating videos of people in mass movement. As always, Marti's work focuses on the human dynamic. Her artworks analyse human behaviour, whenever crowds of people are gathered together at political demonstrations, religious rites, commuting to work or even as a group of fans at a sporting event.
Francesca Marti' – Energy Ray
Gerhardt Braun Gallery
Carrer de Sant Feliu, 12, 07012 Palma de Mallorca, Illes Balears. Phone: (+34) 971 717493
June 28-September 14, 2019
________________________________________________________________________
In July, Francesca Marti's new installations made from colour photographs, sculptural figures, perspex and paint will be included in a group show at the Gerhardt Braun Gallery in Ibiza, which will also be exhibiting recent paintings and mixed media works by Ela Fidalgo and Leon Löwentraut.
________________________________________________________________________
Francesca Marti' – Ellipse will take place at the newly launched Reiners Contemporary Art in Marbella, with a solo show opening at the gallery on September 12, 2019. Visitors will be greeted by Marti's Dreamers – Alpha Virginis, a pensive, seated figure made from mirror-polished aluminium.  The exhibition will feature a new group of works from Marti's Believers series, including Shanghai recycling, Stockholm Central and her monumental Ellipse installation, made from geometric wall paintings, a recycled satellite dish and groups of brightly coloured human figures. Incorporating photography, painting and sculpture, Marti's Believers explore how humans interact with each other, and how in every gathering, there are always the leaders, the followers and the congegation. Marti' recognizes the emotional strength of her subjects, and how people respond differently in different urban settings. Her landscapes include busy train stations and bustling city streets, but each figure plots its own trajectory, existing in its own personal space. Marti' frames her crowd scenes in perspex boxes, which help to reflect, distort and multiply this sense of community and isolation.
Francesca Marti' – Ellipse
Opening September 12, 2019
Reiners Contemporary Art
Comercial Camojan Corner local 9
29602 Marbella
flor@reinerscontemporary.com
phone: (+34) 628 374676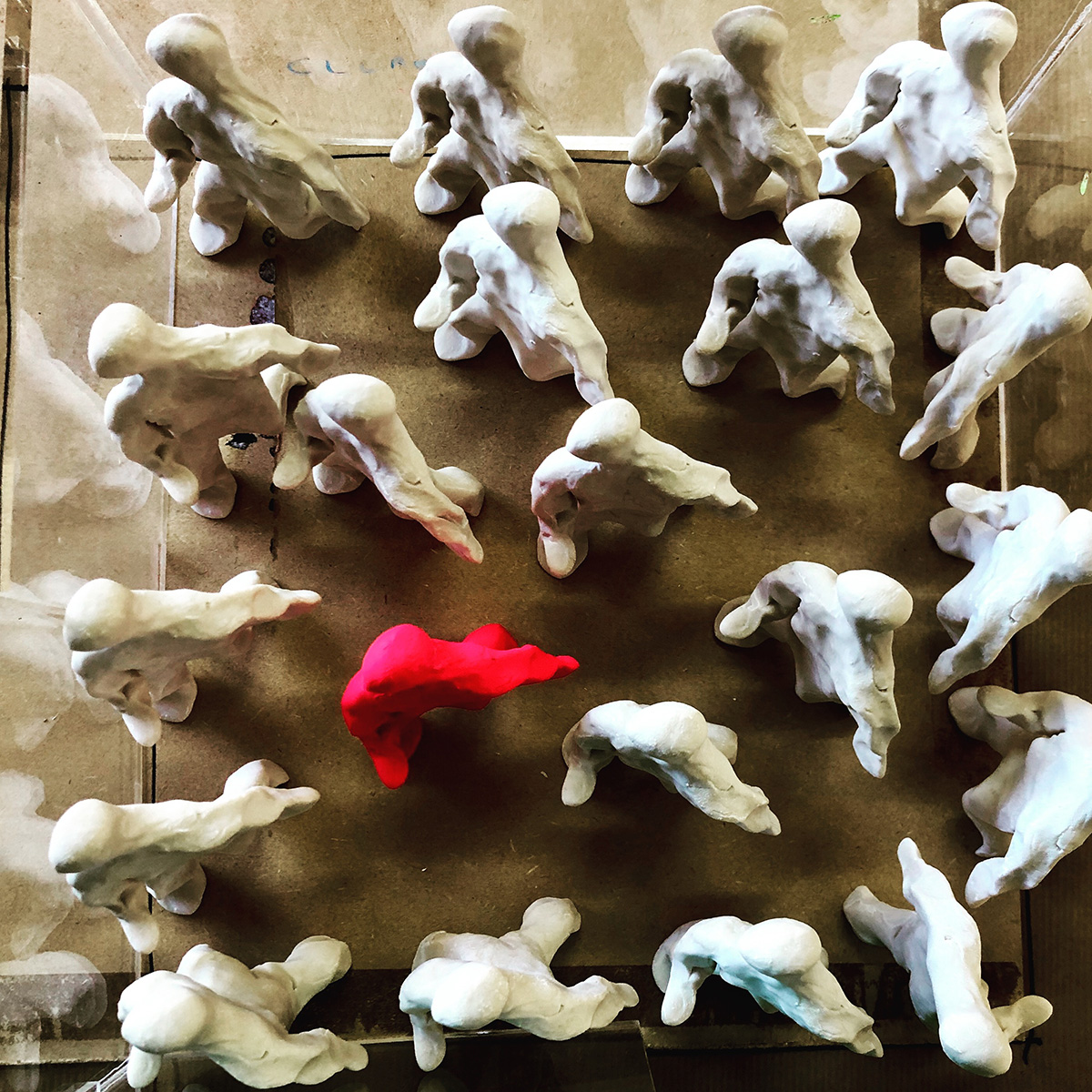 Francesca Marti's preparatory model for a new Believers – Congregation sculpture, 2019, with figures made from moulded clay, resin and automotive paint, in a perspex box. Courtesy Gerhardt Braun Gallery, Palma de Mallorca