Francesca Marti was selected as part of 500 Years Art:

January 17, 2015 – Amsterdam, Holland – Editorial
As of today the great hall of the Beurs van Berlage turned into a huge art gallery with the exhibition 500 Years Art. From 17 January to 1 February, Amsterdam is a new and unique art event richer. Madpac went to look.
During this great art exhibition, one enters in an accessible and creative way, through 500 years of art. The five centuries are raised by four leading art galleries. In addition, each gallery shows his specialty in eight different themes and they show you a few of their most exceptional works.
The perception exhibition, as the organizers call it, is not a very normal exhibition or straightforward sales fair. Artist-IQ has created a meeting place for art lovers. From paintings and sculptures to spectacular modern art as a futuristic projection of the Spanish artist Francesca Marti.
Meet Francesca Marti, an artist born and raised in Spain. Here she shows her work into Deep Blue at the exhibition «500 Years Art». Since 2002 Martí combines canvas with video projections. I found «DIB» a handsome drawing namely because you can not see what is painted and what is filmed. Her style: Canvas meets Video.
You do not have to be afraid of monotony, for 500 Years Art offers more than enough variety.  What the people behind 500 Years Art work correctly is the strong dynamics.  As modern art hangs right next to a portrait of an old master. It works well and knows how to keep good attention fixed. Whether you find it beautiful or ugly. Another interesting combination between 'old' and 'new' is that gallerist's contemporary artists have been asked to «stab» a classical painting in a new guise.  500 Years Art is worth a visit.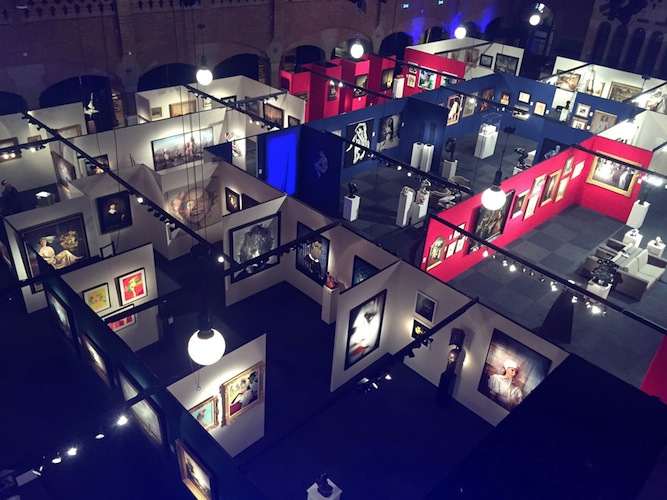 500 Years Art 17 January to 1 February
Beurs van Berlage