As an anteprima to her TRANSFORMATION solo exhibition opening on Saturday November 25 at the Danubiana Meulensteen Art Museum in Bratislava, Slovakia, Francesca Martí devised a brand new Cocoon – Believers performance with 10 dancers from the ellefatale Dance Company, staged in the main space of the museum, surrounded by her recent monumental installations.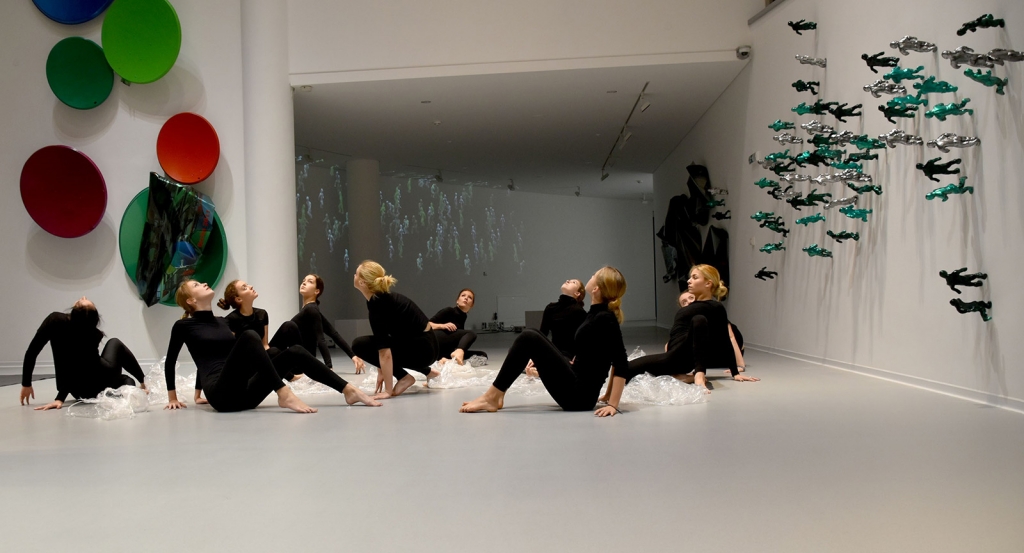 Francesca Martí 's Cocoon –Believers performance at the Danubiana Meulensteen Art Museum,
with the dancers from the ellefatale Dance Company plus the Planet of Fusions 2 installation of
satellite dishes and her Believers sculptures and animated video.
Bratislava, November 22, 2017.
Martí describes the Cocoon – Believers performance:
"The ten dancers stand still, like statues, unmoving, feet placed together, arms by their sides, looking downward. Together with Roman from the Danubiana Museum, I slowly wrap the dancers in transparent cellophane, starting at their feet, then moving upwards in a circle to their heads, leaving space for them to breathe. They are restrained by the exact same material often used by museum staff to protect fragile artworks.
The dancers begin to make small movements, stretching the clear plastic, trying to lift their arms. The plastic starts to tear, and as their movements become less restricted, they make small steps, turning slowly at first. As they feel more liberty and freedom, their actions become more exaggerated and dramatic. When they finally break free, the plastic wrapping falls to the floor like discarded cocoon shells, and the dancers also fall to the floor, dejected and exhausted, laying in silence.
Soon, they awaken. They begin to rise slowly, looking at the sky, raising their arms. They stand together in a circle, looking in different directions, and begin to make small shuffling steps, walking over the debris on the floor. Then, like ten independent beings, they begin to walk in different directions, zigzagging through the space, looking straight ahead, each in their own world. Eventually one-by-one, they walk away, each migrating to a new destination. This performance clearly relates to my new Believers sculptures and animated videos."
Martí's ongoing Cocoon project includes the videos she created with Ray Scott in Mallorca in 2008, and performances in Stockholm in 2012 and Seoul in 2014, all represented by the Metamorfosis photographs in her current Transformation retrospective at the Danubiana Meulensteen Art Museum. This latest performance with the ellefatale Dance Company exists in direct dialogue with Martí's most recent monumental series, including her Kingfisher and Annunciation video projections in satellite dishes, the large Chaos installation, and the Believers project – a crowd of 99 small figurines migrating across the museum wall, and a video animation with sound-scape installed by Thomas Fuellengraben (head of DeutscheWerbeWelt in Cologne) a creative media technology genius.

Cocoon – Believers performers: Francesca Martí, Roman Očovan and the ellefatale Dance Company: Donna Carla Csoka, Katka Czáková, Claudia Hlavačková, Ivka Horváthová, Miška Kopanicová, Zoe Potančoková, Sima Šinková, Hanka Vidová, Majka Viteková and Sophi Wagnerová).
http://www.elledanse.sk/en/ts-ellefatale
With thanks to Vincent Polakovič and Veronika Polakovičová, Danubiana Meuelensteen Art Museum, Bratislava.