The new Gerhardt Braun Gallery in Andratx features Marti's multi-faceted world of Believers as a universal portrait of mankind. In a game of camouflage and guile, an alumium sculpture climbs the wall. The figure is painted in a shimmering, opalescent lacquer similar in tone to mother-of-pearl, reflecting the colours of the sea outside. According to the artist, this ephemeral figure provides "the illusion of holding on to the dream." It is christened Nimbus after both the stormy cloud formation and the 1960s solar-paneled NASA meteorological satellite.
Believers are the latest works by Marti'. These energetic silhouettes have developed and evolved from her earlier Dreamers drawings and sculptures (also shown in Andratx in versions in polished bronze). While the Dreamers are static, introspective figures – withdrawn and contemplative – Marti's Believers are more dynamic. They stand, walk and run. They confidently stride towards the unknown. These subtle, androgynous figures embody the themes recurring in many of Marti's works, incorporating aspects of migration, human fragility and spiritual potency.
"To me, the Believers represent that certain moment when you wake up from a dream, and then you are confronted by reality, or by our vision of reality" says the artist. "It is what inspires us to physically, mentally and emotionally progress, and to move ahead."
A group of 21 smaller aluminium figures migrates across another wall in Andratx, with a video projection in green casting long shadows and creating surreal movements. This work is an extension of Marti's large-scale installation, projection and performance at her Transformation retrospective exhibition in 2017 at the Danubiana Meulensteen Art Museum in Bratislava, in Slovakia. Another installation incorporates figures painted in high-gloss automotive lacquer, walking inside the "valley" of a recycled satellite dish. This post-industrial, semi-spherical form has appeared frequently in Marti's work since 2010.
Meanwhile, a quartet of recent mixed-media works play with the viewer's sense of perspective. Utilising the techniques of photography, computer-graphics, painting, charcoal drawing, collage and terracotta sculpture, Marti' assembles both flat and three-dimensional figures which move in groups across large sheets of white paper, framed in perspex boxes. Painted shadows, overlapping forms, twisted fore-shortening and minimal colouring help to create an intriguing, but optically deceitful mix. As populations shift, and as the masses follow different charismatic leaders, Francesca Marti' captures a world of change, drama and hope.
Text by curator Jonathan Turner, Rome/Sydney
Francesca Marti' – Believers
July-September 2018
Gerhardt Braun Gallery
Avenida Gabriel Roca Garcia n.2, Local 1
07057 Puerto de Andratx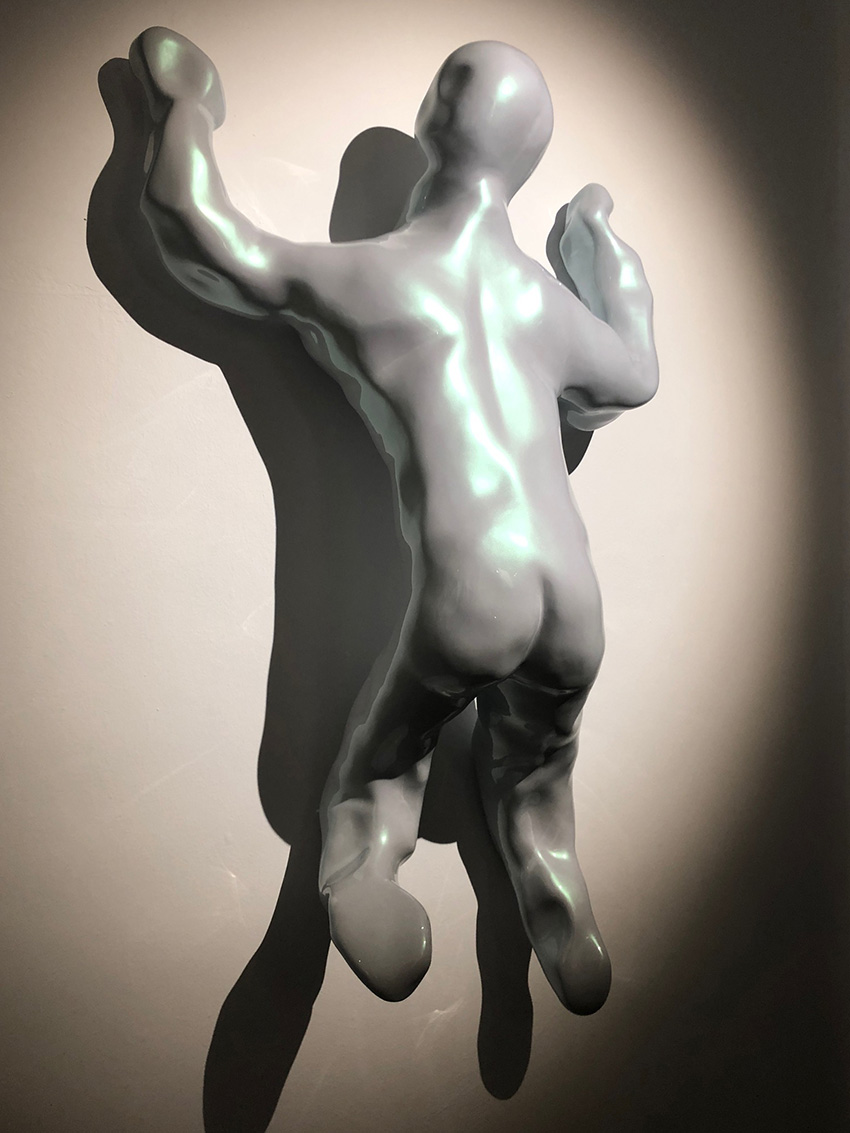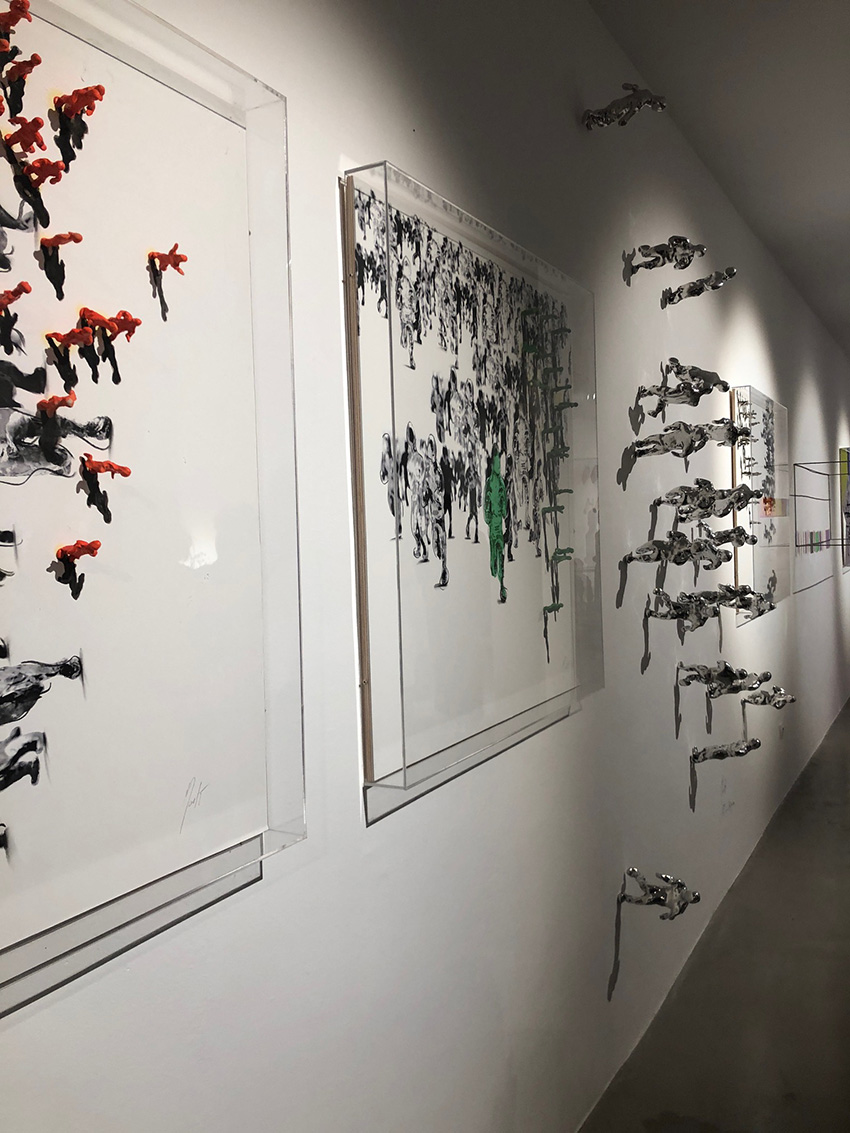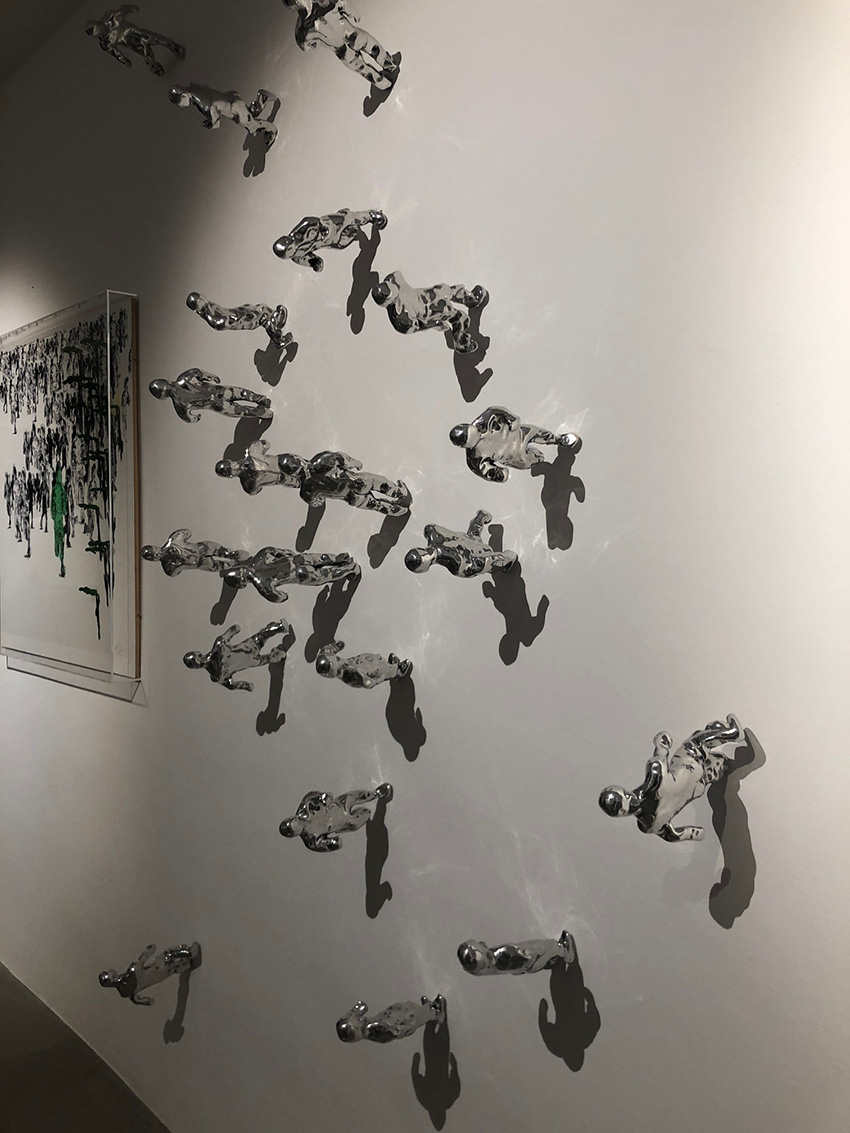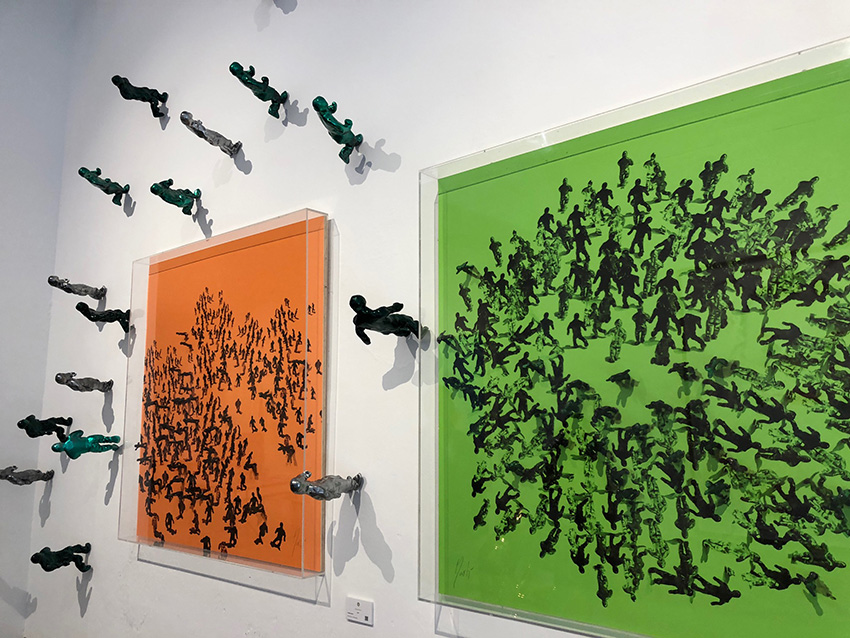 Francesca Marti', Believers exhibition at Gerhardt Braun Gallery, Andratx in Mallorca, with the series of mixed media works entitled «There were many in the shadow of the afternoon» – paper, terracotta, paint, photographs and collage in a perspex box, 100 x 100 x 10 cms; and the life-sized «Nimbus» sculpture made from cast aluminium painted with opalescent automotive lacquer, 2018.